MEDALS and AWARDS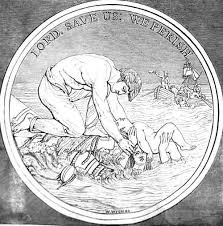 Mr WYON'S design for the Liverpool Shipwreck and Humane Society's medal awarded to persons who assisted at the conflagration of the "Ocean Monarch"
The Liverpool Shipwreck and Humane Society Medal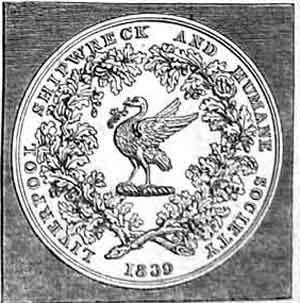 The Society was instituted in January 1839, and originated in consequence of the violent hurricane of the 7th of that month, which occasioned such fearful destruction both to life and property at the mouth of the Mersey. The objects of the institution are :-
1st The preservation of life from shipwreck.
2nd The relief of the unfortunate sufferers wrecked on the shores contiguous to the Port of Liverpool.
3rd The reward of persons instrumental in rescuing life from shipwreck.
With a view to carrying out the third object the reward is a beautiful medal executed by Mr WYON of her Majesty's Mint. The front shows a sailor kneeling on a fragment of a wreck, rescuing an infant and its mother from drowning, a boat in the distance is similarily engaged, and on the horizon is a ship, on the reverse is the "Liver" encircled by a wreath of oak.
------------------------------------------------------------------------------------------------------------ ---------------------

------------------

Liverpool Shipwreck and Humane Society Awards to Police and Fire Brigade

Brave River Policeman William PEGLER

Peninsular war medals awarded to men in the district 1849

Medals awarded to the crew of the Pakefield lifeboat for rescuing crew of the Zemira, 1858

Medals and awards to the crew of the THALES, 1881

Crosby Fire Brigade long service medals 1900

Awards to crew of the DEVONIAN for rescue in the Volturno disaster 1913

Awards by Liverpool Shipwreck and Humane Society Oct and Nov 1940

Medals and awards 1943 to 1945

VC'S awarded 1942

Medals and Awards 1942

Medals and awards St Helens

Copyright 2002 / To date