Liverpool Daily Post, Jan 18th, 1941

Brave deeds in Home Defence

Awards for Merseyside Men

Dramatic Stories of Fearless Rescue Work

Stories of great bravery, quick initiative, and selfless performance of more than duty demanded lie behind the awards, announced in the London Gazette last night, of the George Cross, George Medal, and other decorations to British civilian army. A number of Merseyside heroes are included in the list of honours.

A glowing chapter of British civilian heroism is presented, containing the names of those heroes and heroines of the air raids who have been selected for the award of the George Cross the George Medal, and other distinctions.

The narratives show that imminent peril of sudden death has no terrors for British men and women in their anxiety to rescue the victims of Nazi bombs. No big raid, whether in London, Liverpool, Coventry or Birmingham, or any other city, has been without the heroes and heroines, though by no means all have now been honoured.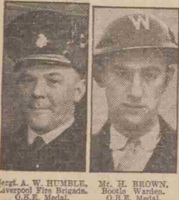 Sergeant Alfred William HUMBLE and Harold BROWN
The Merseyside roll of honour is a distinguished one, a serious fire due to enemy action broke out at some storehouses in Liverpool. In spite of the fact that continuous dust explosions were taking place and that the fire appeared to have a hold impossible to subdue, Sergeant Alfred William HUMBLE, Liverpool Fire Brigade, who is awarded the Medal of the Order of the British Empire courageously handled the position and by prodigious efforts prevented the fire from travelling across the gantry, thereby saving the adjoining building.
There was an ever present danger of explosion from time bombs, and had it not been for his gallant action, initiative and leadership the fire might well have been fare more serious than was evidentially the case.
Five Bootle awards
The George Medal is awarded to one Bootle air raid precautions warden and the Medal of the Order of the British Empire to four others belonging to that borough.
Archibald LENNIE, of 153 Southport Rd, Bootle, formerly a French polisher and now in the Army receives the George Medal. On being informed that there was some members of the family in a damaged house he immediately set to work clearing the debris and assisted in liberating a man. On hearing the cries of a girl he got in the hole through which her father had been taken and grasped the hand of the girl. She could not move but LENNIE first freed her face, which he covered with his steel helmet, borrowing another from a brother warden. He kept working his way through the debris, freeing the girl limb by limb, and was so occupied for two and a half hours.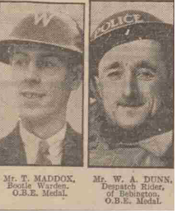 Thomas MADDOX and William Albert DUNN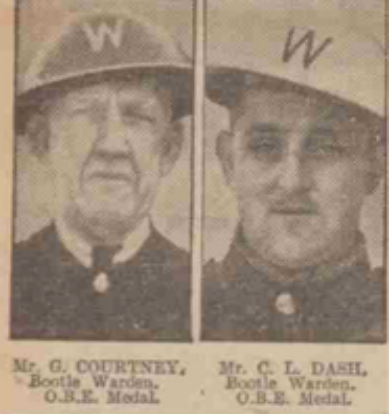 George COURTNEY and Charles Levi DASH
The four Bootle wardens who each received the O.B.E, Medal are Harold BROWN, shipping clerk of 242 Derby Rd, George COURTNEY, carter of 15 Trinity Rd, Charles Levi DASH, mechanic, of 57 St Johns Rd and Thomas MADDOX, licensee of 306 Derby Rd.
Family Trapped
Saved by prompt courage
These for wardens were searching for a delayed action bomb when it exploded. On hearing the explosion the party immediately made for the scene, and Senior Warden DASH noticed the side of the house had collapsed. They at once entered and saw the daughter who was found to be suffering from shock, but otherwise uninjured. She informed DASH there were 11 more of the family in the house, and a search quickly located 7 of the others. These were rescued at considerable risk as the building was unsafe. The other 4 occupants, a man, his wife and their two children were found to be trapped while in bed, owing to the ceiling having fallen on them. The bed was overhanging into the street and the wardens, expecting a sudden heavy crash took immediate hold of the falling bed, and using their helmets as protection and support, lifted the ceiling sufficiently for Warden MADDOX, at tremendous risk to all, to release and drag away the trapped persons.
No sooner had the people been rescued than the whole gable end of the house collapsed and the bed was completely covered by debris. The prompt action and courage of the wardens prevented what might have been serious loss of life.
Exploits of Bebington man
A despatch rider of the Cheshire Constabulary William Albert DUNN, of 8 Brereton Rd, Bebington, also receives the Medal of the Order of the British Empire.
When three houses were demolished there was an escape of gas which hampered the rescue workers. A father, mother and daughter and their dog were trapped underneath the debris of their home. A rescue worker and policeman were underneath in a very cramped space clearing a way to extricate the family. They had to come out because of gas exhaustion.
DUNN crept in and worked with the light of a torch, the raid was still on and enemy planes were hovering overhead, and very shortly afterwards succeeded in rescuing the man, who crawled out little worse. DUNN continued the work and was successful eventually, with assistance, in releasing the mother, her small daughter and the dog.
Among a list of commendations for brave conduct is the name of Geoffrey ROBERTS, police constable, of Wallasey Police Force.
The George Medal to a Liverpool police sergeant is among the medals for gallantry on Merseyside in the London Gazette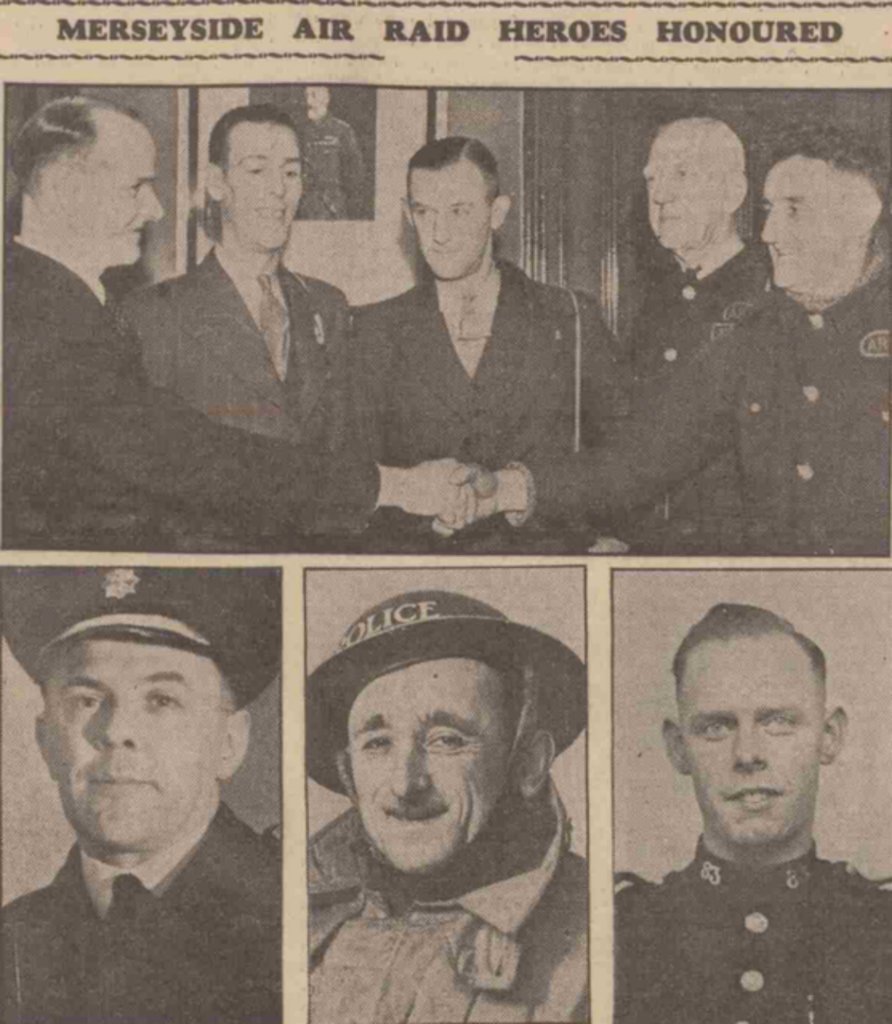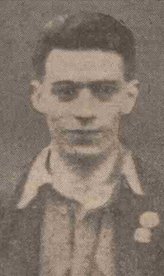 ----
Liverpool Daily Post, Jan 25th, 1941
Civil Defence Heroism
Awards for Merseyside exploits
How big dock explosion was frustrated
Merseyside men are mentioned in the London Gazette last night, as recipients of awards for deeds of heroism and endurance during enemy air raids. The list includes dockers, railway men, fire and police officers.
The George Cross, three M.B.E, s 40 George Medals and 21 medals of the Order of the British Empire were awarded. In addition over 100 men and women have been brought to notice for brave conduct in civil defence.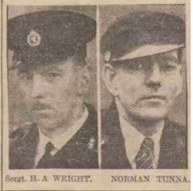 Norman TUNNA and Sergeant Harold Alexander WRIGHT
The recipient of the George Cross is Norman TUNNA, a Great Western Railway shunter, of Birkenhead, another Birkenhead man Patrick John MAHONEY, receives the George Medal, which is also awarded to Sergeant Harold Alexander WRIGHT of the Liverpool Fire Brigade. The medal of the Order of the British Empire goes to Herbert THOMAS, a railway yard inspector, and William Edwin WEAVER, cartage foreman, both of Birkenhead.
The George Cross has been earned by Norman TUNNA, aged 32, a Great Western Railway shunter of 1 Rowland St, Birkenhead for a hair raising exploit. During a raid over the Liverpool port area he discovered two incendiaries burning in a sheet covered waggon load of 250lb bombs. The top layer of bombs were already hot, but TUNNA, tearing off the sheet first extinguished the incendiaries and then removed them from the truck. His action, says the London Gazette, displayed courage in very high degree and eliminated the risk of serious explosions, the result of which it would be difficult to measure.
Among the recipients of the George Medal are, Sergeant Harold Alexander WRIGHT, of the Liverpool Fire Brigade. A large building was struck by high explosive and incendiary bombs, a very serious fire resulting. The enemy returned, dropped high explosive bombs all round the scene, and sprayed the building with machine gun bullets while the fire brigade was at work. Despite intense heat and danger from exploding bombs and machine gun fire, Sergeant WRIGHT and his party remained on the roof and succeeded in limiting the fire.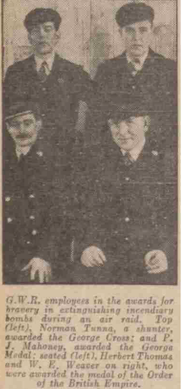 G.W.R. employees, Norman TUNNA, Patrick John MAHONEY, Herbert THOMAS and William Edwin WEAVER
Patrick John MAHONEY, aged 39, railway checker of 272 Claughton Rd, Birkenhead, during a raid over the Liverpool port area serious fires involved the railway and docks, and wagons in the goods yards caught fire, including one which contained ammunition fuses in cases. MAHONEY led his gang in fighting the fire and discharged the cases of fuses on to the roadway, spreading them out against risks of explosion.
The Medal of the Order of the British Empire is awarded to Herbert THOMAS, aged 59, a railway yard inspector of 98 Raffles Rd, Birkenhead and William Edwin WEAVER, cartage foreman, of Bletchley Ave, Wallasey, for their work in this raid. THOMAS had a train load of ammunition and tins of petrol removed from danger, and WEAVER, disposed the staff and fire fighting equipment to the best advantage. All the fires were controlled without injury to personnel and without subsequent impairment and efficiency at an important railway concentration point.
Commendations for brave conduct in civil defence include the following employees of the Liverpool Gas, Company, J. GRIFFITHS, labourer, J. HALE, foreman, H. HARRISON, [engineman, Wavertree Gasworks], John HILTON, pressure man, L. HODGSON, spotter and firewatcher, L. McGINITY, hydraulic main man, J. MANLEY, engineman and H. SPENCER, engineman.
------
Evening Express, Feb 15th, 1941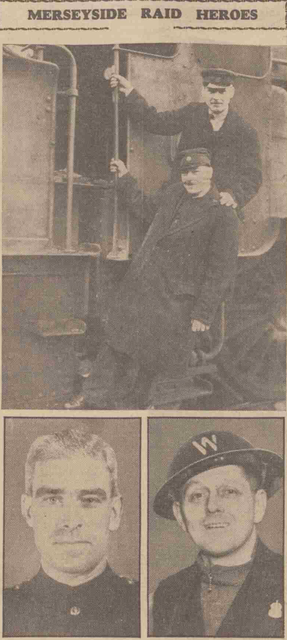 Daring rescues from a cellar set on fire by incendiaries have won the George Medal for Inspector T. M. SKELTON [Left] Westminster Rd, Station, Liverpool City Police and A.R.P, Warden Walter H. EVANS, Netherfield Rd, North, Everton, Liverpool.
Top are two more George Cross heroes, Mr Ivor Thomas DAVIES, driver, Malvern Grove, Birkenhead [hand on shoulder of colleague] and Mr Frank R. NEWNS, fireman,, Francis Ave, Moreton, on their G.W.R, engine, With colleague Thomas TUNNA, they were concerned in the heroic work of putting out incendiary bombs among ammunition trucks.
---------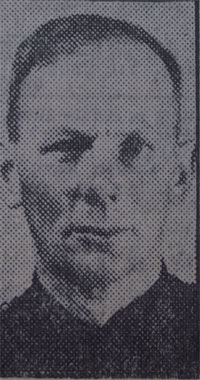 PC Edward CRANN

PC.S THIRD MEDAL

G.M For Liverpool Raid Rescues

Salvage Corps awards

A Liverpool police-constable's heroic work, which resulted in the rescue of four men in an air raid, has brought him the award of the George Medal "for unselfish and brave efforts which were carried out in the worst possible conditions"

A terrific explosion

He is PC Edward CRANN, aged 46 of Irby Rd, Anfield. He has the Police Medal for twenty years good service, has been four times commended by the Watch Committee and in 1933 was awarded the Bronze Medal of the Liverpool Shipwreck and Humane Society for diving into the Mersey to rescue a youth.

Constable CRANN was on duty during a heavy raid at night when a large number of incendiaries were dropped, causing fires in several buildings on his beat. He extinguished several fires, and while he was helping members of the Auxiliary Fire Service there was a terrific explosion caused by a very powerful bomb falling in the centre of a fire.

A large building collapsed and became a raging inferno. Though severely shaken by the blast, he realised several A.F.S men had been working close to the building, and found two lying injured and unconscious on the footpath. Assisted by a police sergeant he carried the men to an air raid shelter.

Constable CRANN then found a man buried to his neck in debris. Though there was grave danger from falling timbers and the possibility of walls collapsing, he set to work to release the man, moving the debris with his hands, and carrying the man from whence he was removed to hospital.

Found Injured Driver

Knowing that Driver ROBERTS of the fire brigade had been in the vicinity at the time of the explosion, the constable returned and conducted a thorough search, though the fire was still burning fiercely and walls were collapsing. He stumbled upon Driver ROBERTS lying injured and unconscious, and, obtaining assistance from two A.F.S men he carried him to safety. He showed complete disregard for his own safety and, though in a distressed condition, with his clothes saturated, he remained in the vicinity assisting and directing fire-fighting and rescue operations.

Interviewed yesterday, Constable CRANN said, "There was nothing in it. I am no stranger to bombs, because, after being wounded at Ypres in the last war, I was blown out of a hospital bed by a bomb." Incidentally Constable CRANN was mentioned in despatches in the last war for re-establishing communication lines under fierce enemy fire. "I would go through a barrage of shells any time, but these bombs are a different proposition," he added.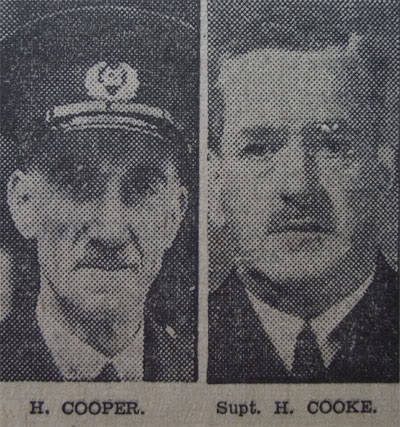 Liverpool Daily Post, May 21st 1941

SALVAGE HEROES

Superintendent and his deputy

Superintendent Harry COOKE [who has since died] and Deputy Superintendent Henry COOPER, colleagues for many years in the Liverpool Salvage Corps have been awarded the British Empire Medal. Mr COOKE was in charge of salvage operations on a number of occasions while night bombing and machine-gunning were in progress. He showed the finest qualities of leadership and endurance and, with complete disregard of personal safety, prevented several fires from getting out of control.

Mr COOKE together with Major HODGSON, then newly-appointed Second-Officer of the Salvage Corps, was killed in a recent raid. Women and children of the living quarters were in an air raid shelter and after an explosion, Mr COOPER and others managed to take them to another air raid shelter which was soon endangered by a fire nearby. The women and children were again taken to another shelter, some of them on stretchers.

Prevented Immense Damage

Mr COOPER has been instrumental at much personal risk, in preventing immense damage to vital commodities, and has been in charge of the Salvage Corps operations at serious fires in the dock area. At one fire his prompt action prevented the fire from spreading to valuable merchandise. Though the fire caused much danger to the detachment, Mr COOPER worked for several hours with complete disregard for personal danger, with the result that the fire was brought under control.

Mr COOPER who had just returned from the funeral of Salvage Officer H. A. JONES, killed in a raid, said yesterday that he and Mr COOKE had worked side by side together for more than twenty years. They were both Liverpool men and about the same age 46. Mr COOPER lives at 58 Parkside Drive, West Derby. He served in the last war, and for over four years was in the Centurion under Captain [now Admiral] Sir Roger KEYES. Mr COOKE leaves a widow and five children.

Salvage man John George HODGSON, who has been commended worked at serious fires whilst night bombing was in progress and there was heavy A. A, fire. He managed a turntable escape for one and a half hours until the escape became too hot to be used, and in several other fires showed disregard for his own safety.

Mr Fred SHARP a bachelor living at 6 Selborne St, Liverpool, who also receives the British Empire Medal, is employed in the cleaning department of the Liverpool Post Office, and has constantly been engaged on fire-watching duties. He has tackled many roof fires and his coolness and initiative have helped to prevent flames from spreading.

Liverpool Daily Post June 7th, 1941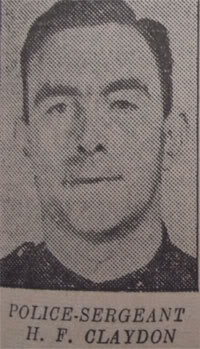 Sergeant tunnelled 20 feet into debris

Liverpool AFS Men win Empire medals

In a new list of awards for gallantry in air raids, in which for the first time a bar to the British Empire Medal has been won, Liverpool is represented by the award of a George Medal to a police-sergeant and of two British Empire Medals to members of the Auxiliary Fire Service

Sergeant Harold Frederick CLAYDON of "A" Division of the Liverpool Police Force wins the George Medal for his heroism on the night of the 12th of March, when he rescued six persons from the debris of a two-storey tenement in Adlington St, off Hatton Garden. He was told that the occupants had been trapped, relying mostly upon his hands, and using a torch in the darkness he began to tunnel through the debris at great risk to his own life.

Gassed but carried on.

After working for some time he reached two young women, Nellie WALSH and Lissie DOW, whom he brought to safety. Making the hole he had made through the debris more secure by means of pieces of masonry and wood, he proceeded with his tunnelling and reached Mrs FAGERASS, aged 70, who was lying semi-conscious with her left arm fastened in the debris and a piece of wood across her chest. He succeeded in releasing her and despite her weight of sixteen stones, dragged her to safety. By this time Sergeant CLAYDON was suffering from the effects of escaping gas, but after being given a drink of water he continued to tunnel through the debris. Mrs FAGERASS, on recovering consciousness, said fourteen other persons had been sheltering in a small space. After next rescuing a man who had lost consciousness CLAYDON returned to the tunnel and heard a child's voice say, "I am here mister, can you see me?" He found the child lying with a piece of wood across his body. He had to use a saw to cut through wood to rescue the child, and also a man who had been trapped in a chair, which he had to break before he could move him. By means of his tunnel which went twenty feet into the debris, ten of the fourteen people were rescued. Sergeant CLAYDON after working in the tunnel for two hours finally collapsed owing to the effects of gas and had to be removed to hospital.

Sergeant CLAYDON is 37 years old, married, and lives at 28 Agincourt Rd, West Derby. He joined the Liverpool Police Force in 1927 and was promoted sergeant about three years ago.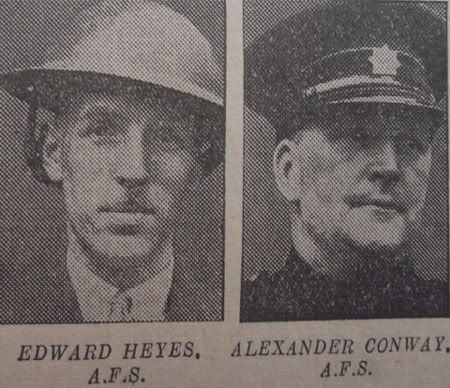 Held up a floor while comrade saved six people

Alexander CONWAY and Edward HEYES, Liverpool Auxiliary Firemen, receive the British Empire Medal for releasing five women and a child from a wrecked building during a raid in December, a high-explosive bomb wrecked two houses. CONWAY and HEYES clambered into the wreckage, and while one supported a collapsed floor with his back, the other sawed away timber to make his way to the wreckage.

Through this CONWAY crawled, and was instrumental in releasing five women and a small child. On woman who had been embedded up to her neck in debris, was sitting in an armchair and was hysterical. The rescuers had to cut their way through a floor which had been turned on end. CONWAY removed sufficient debris to enable him to use a saw. After cutting away the arms of a chair he succeeded in releasing a woman.

These operations were hampered throughout by the escape of gas from a fractured main and also by the presence of enemy planes from which bombs were dropped in the adjoining streets. Both CONWAY and HEYES are married

Liverpool Daily Post June 14th, 1941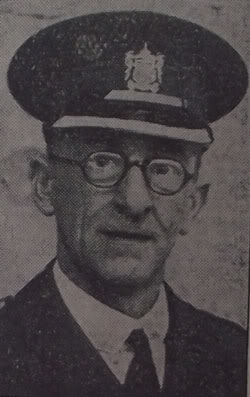 James Frederick COLLINS

More civil awards

M.B.E for Bootle Fire Chief

Mr James Frederick COLLINS, Chief Officer of Bootle Fire Brigade, who rescued his wife and daughter when his own house was demolished by a bomb, and then returned to duty, receives the M.B.E

Other Merseyside defence workers commended for brave conduct are James William ANDREWS, stretcher-bearer, A.R.P, stretcher party Birkenhead, William ASHWORTH, member volunteer rescue party, Birkenhead, Miss Sarah BOYLE, attendant first-aid post Birkenhead, Walter BUCKLEY, member volunteer rescue party, Birkenhead, George FOGG, member first-aid party, Birkenhead, Doris Zita [Mrs GREAVES] head of rest centre teams W.V.S, Birkenhead, Eric William HUDSON, leader first-aid party Birkenhead, and John JONES, A.R.P, messenger, Birkenhead, Harold Lee MAJOR and Joseph Lee MAJOR, members of the volunteer rescue party, Birkenhead, Dr George Seymour SWANN, Birkenhead and Albert Neville YAPP, member first-aid party Birkenhead.

Rescued own family

Mr COLLINS has been with the Bootle Brigade for 30 years, has had the great responsibility of fire fighting in all the severe raids since the war began, and in the heaviest yet experienced, that during the first week of last month, he returned to the Central Fire Station one night just a few minutes before his own house near the station received a direct hit which completely demolished it. Mr COLLINS who heard the bomb fall, rushed to the house and was able to rescue his wife and daughter, whom he brought out of the wreckage through an emergency door, fortunately unhurt. After seeing that they were uninjured, he at once returned to fire-fighting on which the brigade were continually engaged for several days.

Mr COLLINS was responsible for the local organisation of the A.F.S. He served with the R.A.F in the last war and holds the long service medal of the Professional Fire Brigades Association.

Liverpool Daily Post June 21st, 1941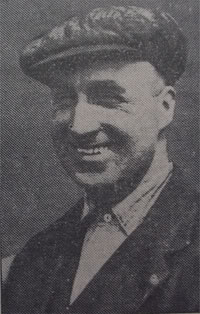 George Medal for a Warden, Garston man's heroism

James Henry WHEELER

A Liverpool part-time air raid precautions warden, James Henry WHEELER, is one of the latest recipients of the George Medal for bravery and devotion to duty in a recent raid on the city.

Mr WHEELER who lives at 5 Etruria St, Garston is the first Garston man to be awarded the coveted decoration.

"High-explosive bombs demolished a house and a woman and child were trapped" says the official announcement of the award. "WHEELER began to remove debris, while a prop was held under a wall to prevent it from falling. The wreckage of the adjoining house was on fire, and there was a serious escape of gas. WHEELER worked his way into a recess formed by the roof rafters. Any false move would have been disastrous, for the rafters and wall would have fallen on him. Smoke was pouring into the recess, but, on his hands and knees with a handkerchief over his mouth he continued working for nearly an hour, and rescued a woman and a little boy.

"On leaving the wreckage he collapsed, but recovered and entered other badly damaged houses to continue rescue work.

When seen by the "Daily Post", Mr WHEELER gave a very modest account of his action, stating that he did not wish to take all the credit. The mother whom he rescued first died soon after admission to hospital, and the boy, aged four years, was dead when recovered. Police-sergeant R. LITTLEDALE assisted him by holding the prop to prevent further debris falling.

Sergeant LITTLEDALE said all the credit must be given to WHEELER for his very gallant work.

-----------

The Times, July 5th 1941

Civilian awards

Bravery during air raids

O.B.E, [Civil], Harold PARTINGTON, Town Clerk and A.R.P, Controller, Bootle

Throughout the period of the air raids Mr PARTINGTON has worked day and night to maintain the affairs of the borough and conduct A.RP, control. During and after every raid the situation has been successfully dealt with by Mr PARTINGTON, on whom falls the responsibility of coordinating all the A.R.P services. In addition he has personally led fire-fighting parties and extinguished incendiary bombs on the roof of the town hall during the heaviest attacks

George Medal

To Thomas FLOOD, Auxiliary Fireman, Liverpool A.F.S, who tunnelled under the debris of a wrecked house and after working for an hour heard a baby crying. He continued and found a child under a perambulator. He obtained food and fed her, and with difficulty he eventually extricated her unharmed. He then heard the cry of another child under the rubble and after tunnelling 7ft, and sawing through an iron cot, he rescued a small boy.

George MedalTo George STEVENS, Wallasey, a woman was trapped in a house extensively damaged by a bomb, the outer walls in danger of collapse. STEVENS regardless of the danger burrowed through the wreckage and found the victim. Despite falling debris and continual enemy action, he persisted in his untiring efforts to rescue her. After working for 2hrs in a very limited space he succeeded, he then continued with further rescue work.

British Empire Medal to Paul CATTERALL, Acting Sub-officer Bolton Fire Brigade, William Albert CLARE, Dairyman, Wallasey, Albert MARSHALL, yard foreman, the Liverpool Gas Company, George WINDSOR, pressureman and Francis McNALLY, assistant-pressureman the Liverpool Gas Company.

---------------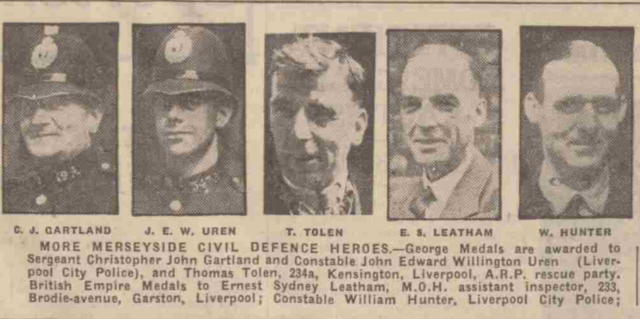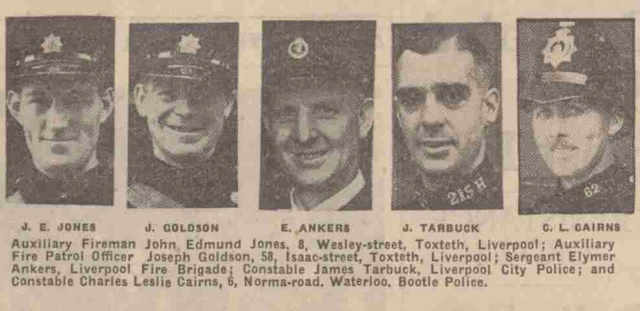 London Gazette Aug 1st 1941
Liverpool Police Officers feat of strength and endurance
A feat of strength and endurance has won George Medals for three Liverpool police officers and a rescue worker. Other Liverpool, Bootle and Cheshire County police officers receive the British Empire Medal
George Medals
Christopher John GARTLAND, police sergeant, Herbert Frederick Collier BAKER police constable, John Edward Willington UREN, police constable, Liverpool police force, Thomas TOLEN, member A.R.P, rescue party, Liverpool
During an air raid a building was demolished by enemy action. Portions of the interior walls collapsed, and the outside wall was leaning dangerously inwards. GARTLAND, BAKER and UREN, accompanied by TOLEN, entered the building and after searching in complete darkness they found a fire-watcher trapped and almost buried under the debris on the ground floor. When some of the wreckage had been removed a large wooden beam, which was carrying the weight of debris of the roof and upper floor, and which was directly over the trapped man, appeared about to collapse. Constable UREN at once got under the beam, supporting it with his shoulder. He remained in this position for a considerable time, during which the other three men worked frantically to free the victim. The weight of the beam became too much for UREN to support, and BAKER took up a position beside him. It was clear that the whole building might collapse at any moment, and the sergeant who is a man of exceptional strength placed his arms around the man's body and with powerful and sustained effort pulled him clear of the debris. Constable BAKER then got away from the beam, but owing to the great weight UREN was unable to move. The sergeant took hold of him and snatched him away. As he did so the upper floor collapsed completely covering the place where the rescuers had been working. During the whole of this time TOLEN had been untiring in his efforts to release the trapped man, entirely regardless of the near danger. Constables UREN and BAKER, by supporting the beam for over an hour, made the rescue possible. Had they collapsed under the severe strain the rescuers and rescued would have been killed.
British Empire Medal
Ernest William POCOCK, police constable, and Frank Douglas WIGGINS, police constable, Cheshire Constabulary
For gallant conduct in attempting to rescue the occupants of an aircraft which crashed and caught fire. These men faced the danger of exploding bombs and ammunition with complete disregard of their personal safety.
Constable WIGGINS is a member of the Cheshire County Police motor patrol. He is a native of Crewe and was employed by the L. M. S, before enlisting in the Coldstream Guards. He has been with the Cheshire police for 11 years. He is married and is 34.
Elymer ANKERS, sergeant Liverpool Fire Brigade
When bombs fell on a railway siding an ammunition train caught fire and the contents of the railway trucks exploded. Sergeant ANKERS took charge of the fire-fighting and rescue work. In attempting to control the fires and remove the ammunition train from the area he showed a complete disregard for his own safety and acted with courage and resource.
Charles Leslie CAIRNS, police constable, Bootle police force.
During an air raid a shelter together with its occupants was blown into the rafters of a house. Under the leadership of Police Constable CAIRNS rescuers climbed to the damaged roof and lowered the victims to the ground. During this time adjacent houses were on fire and bombs dropped near by shaking the roof, which was in a very dangerous condition. The constable fell through on two or three occasions but recovered himself and carried on until the rescue work was completed. It was due to the initiative and energy of Police Constable CAIRNS that the rescues were achieved
Joseph GOLDSON, patrol officer, Liverpool A.F.S.
Throughout enemy air attacks Patrol Officer GOLDSON has displayed outstanding leadership and resource
John Edmund JONES, auxiliary fireman, Liverpool, A.F.S.
During enemy air attacks on Liverpool Auxiliary Fireman, JONES has acted with coolness and courage. On one occasion although he was suffering from an eye injury and the effects of blast, JONES took up a very dangerous position in order to prevent a fire from reaching an air-raid shelter. He maintained his position in spite of the knowledge that an unexploded time-bomb was only a few feet away from him and that he was in danger of being trapped by the fire.
Ernest Sidney LEATHAM, fire-watcher [Assistant Inspector Outdoor Staff] Ministry of Health, Liverpool, William HUNTER, police constable, Liverpool Police Force
During an air-raid Mr LEATHAM, with some colleagues was in a basement shelter when the building above was hit by high-explosive bombs and set alight. Mr LEATHAM managed to release himself and went for help. He directed the firemen so that the trapped men should not be drowned by the water from the hoses. Constable HUNTER dug a way through the debris and located one of the men pinned down by beams. Despite the limited space the constable removed rubble, sawed through the timber and released the casualty
While HUNTER was working Mr LEATHAM was burrowing through to the other victim, but was unable owing to heavy obstructions to reach him unaided. Whilst waiting for help from the rescue party Mr LEATHAM salvaged valuable papers from the offices, and at intervals crawled down the tunnel to the trapped man to reassure him. He was eventually released after 7 hours. Constable HUNTER and Mr LEATHAM worked in considerable danger both from the fire which was raging overhead and from falling masonry.
James TARBUCK, police constable Liverpool Police Force
High-explosive bombs demolished many houses and trapped a number of people. Constable TARBUCK who was off duty, was engaged in extinguishing the incendiary bomb on the roof of a building. He was blown to the ground by the blast of the bomb and injured his left kneecap. Despite his injury he immediately went to the incident and organised a rescue party of volunteers. Under his direction and leadership ten people were rescued alive from the debris. During these operations the district was subjected to a very heavy bombardment.
Commendations
The following are among those who have been brought to notice for brave conduct in civil defence.
George Stanley ALEXANDER, motor driver, Bootle
Leo BROADBRIDGE, messenger, Liverpool Auxiliary Fire Service
Stanley CHALLIS, auxiliary fireman, Bootle Auxiliary Fire Service.
William ROUTLEDGE, foreman burner, Bootle
Miss Muriel Ruth WILLIAMS, A.R.P, warden, Liverpool
--------
Evening Express, Sept 5th, 1941
Members of Liverpool City Police awarded British Empire Medals, for gallantry in Civil Defence are Sergeant James BLACK and Constable Robert George SYMINGTON
------------
Evening Express Sept 27th 1941
More raid heroes
The George Medallist is Sergeant Thomas SMITH, aged 53, and married, a member of the Liverpool City Police Force for 32 years, who rescued people trapped under the debris of bombed houses. Constable J. MURPHY, aged 47, and married, a member of the Liverpool City Police Force for 20 years, is awarded the British Empire Medal for rescues effected during the same raid.
Courage and devotion to duty in the face of grave risk, from fire, which threatened on three sides, to engulf the building in which he worked are the qualities which earned the British Empire Medal for William Ivan DERBY, aged 39, a telephone night supervisor of 115 Kingsheath Ave, Liverpool. The further citations in connection with the rescue of prisoners and others when Walton Gaol, Liverpool, was bombed refer to the gallantry of James HALLIDAY, engineer, class 3, and Chief Officer Ernest THOMPSON, class 1, to whom British Empire Medals have been awarded.
Police Constable Fred CROSBY of the Lancashire County Police attached to Seaforth Division, motor patrol, of 3 Ennerdale Dr, Litherland, receives the British Empire Medals.
Liverpool and Birkenhead Post Office workers who displayed coolness in the presence of unexploded bombs are included in the list of commendations.
They are, Mr Wallace CAMPBELL, aged 43 of 95 Stanley Park, a postman driver, Mr E. BLACKBURN, aged 38, of West Holme, Court Hey Ave, Huyton, assistant engineer, Telephone Managers Office, Liverpool, Mr Frederick Charles WRIGHT, an inspector in the engineering dept of the Birkenhead Post Office, Telephone Exchange, of 9 Blomfield Rd, Allerton, Liverpool, and Mr Harry George WARING, also in the Birkenhead engineering dept, of Irvine Rd, Higher Tranmere.
Mr George Stanley TURNER, of 13 Caithness Dr, Crosby, a patrol officer in the Bootle, A.F.S, receives a commendation for bravery.
----------
Evening Express, Oct 4th, 1941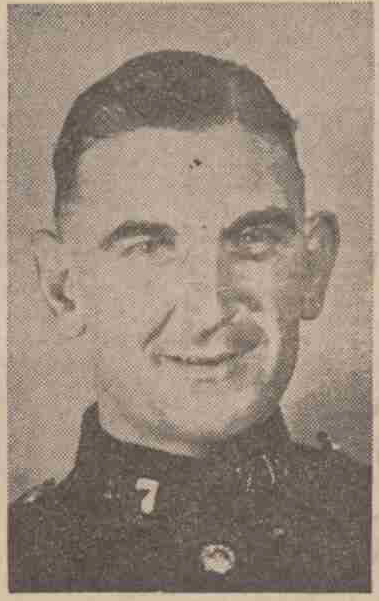 Another Liverpool Police Hero
Sergeant Daniel John COLLINS, aged 37, Liverpool City Police awarded the George Medal for bravery in Civil Defence during enemy air raids. He resides in Yew Tree Lane, West Derby.
---------------
London Gazette Dec 19th 1941
Firemen brave explosions on burning ship
Four Liverpool firemen who strove in spite of falling bombs to save a burning ship alongside Merseyside docks receive awards for their bravery. The ship eventually blew up, killing many people but the men worked on throughout the night For their part in this incident Section Officer John LAPPIN receives the George Medal and Section Officer Noel LANDAU and Auxiliary Firemen Henry HODGE and James ROACH, British Empire Medal to William BROADBENT of the Manchester Civil Defence Rescue Service, and the six commendations of members of that service which are also announced are the result of a fine bit of team work. The story of the incident for which BROADBENT received his medal is told in the official announcement. Eight people out of ten were rescued alive after three tunnels had been made while enemy planes were still active overhead. The six men commended were working in a party under BROADBENT'S leadership
The list follows ;-
George Medal
John LAPPIN, section officer, Liverpool A.F.S, [now National Fire Service]
British Empire Medal
Noel LANDAU, section officer, Henry HODGE, auxiliary fireman, and James ROACH, auxiliary fireman Liverpool A.F.S, [now National Fire Service]
Enemy action caused a serious fire at a dock in which a ship containing a quantity of explosive was berthed. The ships, and large sheds alongside were burning furiously and bombs continued to fall all around. With full knowledge of the tremendous risk involved an A.F.S. crew, under the leadership of Section Officer LAPPIN, fought the shed fires in a gallant but vain effort to reach and save the burning ship. The ship eventually exploded causing many deaths but the section officer rallied the men under his command and although on the verge of collapse from fatigue, he continued to hold the situation. LAPPIN displayed a fine example of courage and devotion to duty and led his men without any regard for his own safety
Section Officer LANDAU, who showed bravery and unyielding devotion to duty, courageously obeyed all commands in the most nerve-testing circumstances. Although he knew there would be a second explosion, LANDAU stayed on and attended to the removal of the dead and injured, personally rescuing many of the wounded and organising their removal to hospital in impoverished ambulances.
HODGE who turned out although he should have been resting showed great devotion to duty, and his courage inspired his colleagues to continue with their dangerous task.
ROACH was several times thrown over by blast from bombs, but he continued to his post throughout the night working indefatigably until when the explosion occurred he was injured by blast and flying wreckage.
George Medal
John Samuel MERCER, pressureman, Liverpool Gas Company
British Empire Medal
James Edmund HAYES, leader, works fire brigade, Liverpool Gas Company
During an air raid a large gasholder received a direct hit through the crown, which was almost completely stripped off and the gas immediately caught fire. MERCER who was 35yds away received a severe shock. With utter disregard for his own safety and in the face of terrific heat from the flames he forced his way into the valve-house, only 15ft from the blazing holder. With great presence of mind, he closed and opened valves thus isolating the damaged holder. By directing jets of water on the fire and beating the flames down. HAYES prevented the flames setting fire to plant near by. The courage and promptitude with which MERCER and HAYES dealt with the situation saved much valuable property from destruction.
William BROADBENT, foreman, Civil Defence Rescue Service, Manchester
A high explosive bomb completely demolished two houses and ten people were trapped in a small space between the upper and lower floors which had sandwiched together. A rescue party led by BROADBENT, began tunnelling in three different directions. Two people were rescued from one tunnel, and four from another. The third tunnel proved extremely difficult to drive as obstructions were constantly encountered. Eventually these were overcome and the remaining causalities were released. The rescuers were in constant danger of further settlings of the ruins, which would have blocked the tunnels, and from coal gas that was escaping from fractured mains near by. The success of the operation was largely due to the courageous leadership of BROADBENT
William TULLY, member of the Civil Defence Rescue Service, Bootle
People were trapped in the cellars of two houses demolished by high explosive bombs. Although the remaining portions of the buildings were liable to collapse. TULLY wormed his way through a small hole and reached three persons whom he extricated. He then tunnelled a way to an adjoining cellar where other people were trapped. After over ten hours work he succeeded in recovering all the casualties. During this time he suffered from the effects of coal gas.
George Medal
Richard Bonser WILDE, leader reserve rescue party Civil Defence Decontamination Service Bootle
A high explosive bomb party demolished a building and adjoining premises caught fire. Under the leadership of WILDE wreckage was cleared from the entrance to the basement which was being used as a shelter, and seven people were rescued. Although warned that the building was liable to collapse WILDE would not leave until he had searched the premises and ascertained that all persons had been rescued
© 2010-2016 all rights reserved