Evening Express, Feb 1940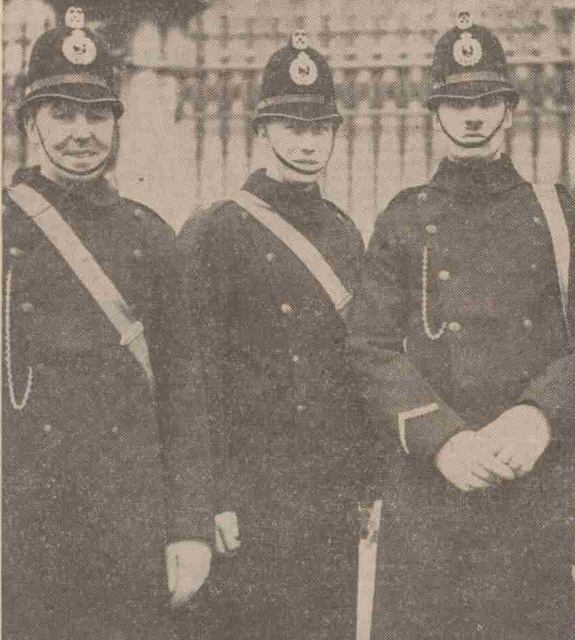 Members of the Liverpool City Police Force leaving Buckingham Palace after being decorated with the Kings Police Medal, the V.C, of police service, at the first Investiture. Left to Right, Police Constables, George DODD, Francis DODD, and Thomas HARRISON.
Evening Express, Feb 6th, 1940
Liverpool Police V. C, s
Decorated by the King today
The King held the first investiture of the season at Buckingham Palace today.
Among the police honoured were a number of Liverpool officers who were decorated with the Kings Police Medal, the, V.C, of police service. The Liverpool City Police officers included Police Constables, Francis DODD, Thomas HARRISON and George DODD.
Police Constable Francis DODD, in the early hours of March 31st last year, saw a suspicious looking parcel lying in a recess of a display window. He found it contained a quantity of gelignite. He recovered it and threw it into a bucket of water, thus preventing an explosion.
George DODD was on duty on June 22nd, n the early hours of the morning when he heard screams from a house in Burnley Street, he found two women with a child entrapped in an upstairs room. DODD burst open the front door, rushed up the burning stairway and made a rope of bedclothes, with which he lowered the entrapped people to safety he himself remaining until he was so faint that he hardly had sufficient strength to jump.
Police Constable HARRISON rescued an attempted suicide from drowning in the river, near St Georges Landing Stage in March last year. The gallantry of his deed was enhanced by the fact that he was suffering from the effects of a serious internal operation when he made the rescue.
After the investiture the three Liverpool policemen spoke of the charm of the King when he decorated them, Police Constable HARRISON said, "His Majesty, shook hands with each of us after he had pinned the medal to the tunic and said, I warmly congratulate you on your pluck."
Two members of the Lancashire Constabulary were Police Constables Jack JEAVONS and James McMAHON. JEAVONS won his award for saving a fellow constable who had fallen into the Manchester Ship Canal. McMAHON rescued two men on a raft on Turners Flash, a large expanse of water of approx 70 acres with large patches of weeds.
------
Daily Post, 1940
Wednesday Oct 2nd
WARDEN HONOURED
BRONZE MEDAL FOR STOPPING RUNAWAY HORSE
On behalf of the Liverpool Shipwreck and Humane Society Major James BENNETT, Chief Warden of the city, yesterday presented Mr William James ROBERTS, a warden of 46 Brainerd St, Tuebrook, Liverpool, the society Bronze medal and a framed certificate, for stopping a runaway horse.
About 11am on Aug 2nd, a bread van standing in Silverdale Ave, drawn by a horse, the horse took fright and bolted, Mr ROBERTS was on duty at the Warden's post and caught the horse by the bridle as it passed him, and, after being dragged about 50yds, succeeded in stopping the animal. Mr ROBERTS aged 61, has been a full time warden since 1938.
EDWARD MEDAL AWARDS
TRIBUTE TO RESCUERS AT BOLD COLLIERY
Two men who headed a rescue party at Bold Colliery after a fall of the roof in the pit, have been awarded the Edward medal in recognition of their efforts in saving the lives of three men trapped underground.
The men are Tom JAMESON, Bank House, Burtonwood, nr Warrington, the agent and general manager of the colliery and Mr C. M. SCHOFIELD night shift overman, of Neills Rd, Bold. They are to attend in the near future an investiture at Buckingham Palace.
The accident occurred on Feb 14th, Mr JAMESON'S birthday, five men were trapped by a fall of the roof, two were killed, Mr Charles William SCHOFIELD, aged 63, of Waverley Neills Rd, father of C. M. SCHOFIELD and Richard SHAW of Neville Ave, Parr, St Helens. Mr SCHOFIELD Senior was a day overman and former under-manager of the colliery.
Oct 3rd
M. C. FOR MERSEYSIDE OFFICER
2nd Lieu [now Capt] Dudley PAGE, Royal Engineers has been awarded the Military Cross, for gallantry and distinguished service in the Norwegian Campaign.
Capt PAGE, 2nd son of the late George F. PAGE and Mrs PAGE of the Red House, Formby, is an official of the Cunard White Star Line and until the outbreak of war was stationed at Bristol. He is a brother of Mr G. C. PAGE Fuel overseer for Formby.
Oct 5th
SWAM TO CRASHED PLANES IN SEA
KINGS LIVERPOOL AND BORDER REGT MEN
The names of the following have been brought to notice by the Commander-in-Chief Home Forces for "gallant and distinguished service"
Kings Regt, Liverpool, Lance Sgt W. JOYNSON and Corpl G. GOODWIN
Border Regt, Privates, R. M. COLLINS, J. T. HODGSON, J. MITCHELL, and H. W. ELDREN
JOYNSON and GOODWIN gallantly swam out to sea to attempt to rescue survivors of an aeroplane, which was upside down in the water and surrounded with blazing petrol. The two NCO'S reached the spot before any help arrived and made every effort in the oily water to rescue the occupants, although in this they were not successful.
The four privates from the Border Regt were on duty on the coast when an aeroplane crashed into the sea. They swam out into the darkness and found and rescued an RAF Sgt who had come down by parachute and was in difficulties.
Oct 8th
RESCUE AT THE DOCKS
LIVERPOOL MEN HONOURED
Sir Lionel A. P. WARNER general manager and secretary of the Mersey Docks and Harbour board yesterday presented the Liverpool Shipwreck and Humane Society awards to three employees of the board for acts of heroism at the docks.
Dock Gateman, George R. CAPENER, Silver medal and certificate, Dock Gateman Albert E. NICHOLSON, Bronze medal and certificate, Temporary Dock Gateman Peter HOLLERHEAD, Certificate.
In the early morning a dredger capsized of the 11 men on it 10 got to shore, R. ALLMARK was seen by CAPENER clinging to its side, CAPENER dived in with a rope and effected his rescue.
NICHOLSON dived to the rescue of James WILLIAMS an employee of an engineering firm, who had overbalanced whilst working on a staging erected at the bar of a vessel in dock.
HOLLERHEAD having heard cries for help in the early morning hours, procured a rope ladder and aided by men from a nearby vessel, succeeded in bringing Petty Officer John MERVIN, aged 64, ashore. Artificial respiration was resorted to but MERVIN did not recover.
SCHOOL GIRLS BRAVERY
INCENDIARY BOMB EXTINGUISHED
Claire NAYLOR, aged 12, a pupil of Westminster, High school, Walton, was presented at school yesterday with a gold bracelet and identity disc for extinguishing an incendiary bomb during a recent air raid.
Claire of 28 Dyson St, Liverpool, was in a shelter during a raid when a number of incendiary bombs fell nearby. While wardens extinguished most, Claire left the shelter and unaided smothered another with a bucket of sand. She went back into the shelter telling no one what she had done.
Mr V. E. SANGSTER Divisional Warden on presenting the bracelet said, Claire had shown extreme coolness and courage and was an inspiration to the whole population.
Miss E. SHARPE, Head mistress described Claire as a quiet unassuming girl and that she hadn't mentioned the incident to any of her fellow scholars. When the teachers heard about it they subscribed together and bought the bracelet.
-----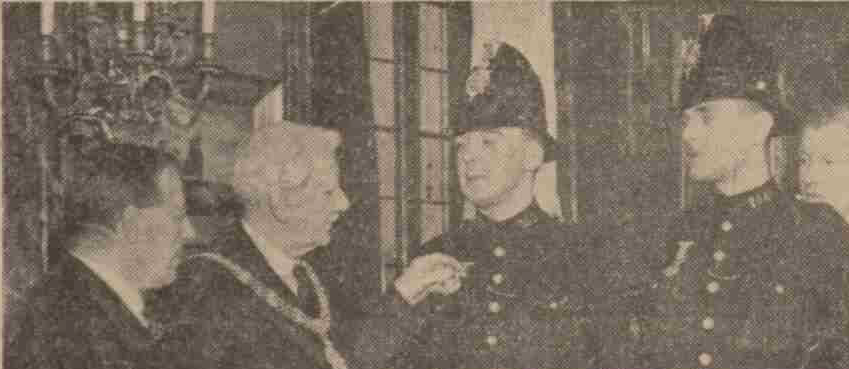 Constables Norman BURTON and Douglas MARTIN
Evening Express Nov 4th 1940
The Mayor of Birkenhead, Alderman W. H. EGAN presenting with R.S.P.C.A., Silver medals, Constables Norman BURTON and Douglas MARTIN for saving a pony from being burned to death. On the left is Councillor J. H. HODGKINSON, acting chairman of the Watch Committee.
Copyright 2002 / 2016 to date