Death of Divisional Superintendent Thomas L. QUICK, 1867
Liverpool Mercury, December 5, 1867
Death of Mr Thomas L. QUICK
Mr Thomas L. QUICK, late divisional superintendent of the Liverpool Police Force died last night at his residence, Queen's Rd, Everton. The deceased gentleman had been ill for some time, about twelve months ago he was seized with a fit, and his life was then despaired of, being a man of strong constitution he rallied, and hopes were entertained that he might ultimately be restored to health, these hopes proved illusive and his health failed. Mr QUICK was connected with public service for many years, for about 30 years he filled offices in connection with the dock police and the Liverpool Police, and was senior officer in the latter body before his withdrawal in 1865. He was an energetic officer and discharged the duties devolving upon him in a manner that gave satisfaction to the public and to those who served under him.
Prior to coming to Liverpool Mr QUICK occupied an important position in the metropolitan police and was frequently employed by the Home Office authorities in the discharge of delicate and responsible duties. He sometimes used to recount his experiences in connection with the Home Department, and one of his stories is worth repetition, as illustrating the devices resorted to by those who "pull the wires" for the purpose of getting up public demonstrations. During one period of the reign of George IV, his Majesty was exceedingly unpopular with the population of London. Those in power determined to get up a demonstration of the "loyal" inhabitants for the purpose of showing, notwithstanding what was said to the contrary, that the "first gentleman in Europe" was exceedingly well liked in his capital. The device hit upon for the purpose of accomplishing this was an ingenious one. His Majesty decided one evening to visit the opera, and this was the occasion the authorities determined to improve. It would have a good effect to show that the King had been well received by the habitus of the opera, who comprised of the elite of London society, and it was therefore arranged that when he visited the place of entertainment he would receive an ovation. If it had been left to the usual frequenters of the opera it was questionable whether the King would have been received with much respect. But this was a contingency which was provided for, and a demonstration of loyalty was got up regardless of expense. A number of picked men, all good-looking, gentlemanly-like fellows were selected from the "crack" division of the London police, dressed in full evening costume, and placed in the vestibule of the Opera House. They received their instructions, they were to lounge about until the King arrived, and on his entrance they were to cheer him. These directions were carried out to the letter, and of course it was represented that His Majesty had been rapturously received by the beau monde at the opera, consisting chiefly on the occasion of policemen tricked out in evening dress.
Mr QUICK was one of the persons selected to applaud royalty on the visit alluded to, and he used to recount with much humour how efficiently he and his brother officers performed the duty allotted to them.
Superintendent Quick's eldest daughter Ellen, died Feb 28th, 1853, aged 15, his son Richard George, died March 18th, 1854, aged just 14 years, at his father's house, Chester St. He was a youth of great promise. His youngest son George Jocelyn died of dysentry, July 30th, 1857, and his wife Annie died, March 14th, 1863, at 24A Olive St, Abercromby Square, of atrophia aged 45.
Deaths of Detective Nelson LEES and Robert MARSDEN, of typhus 1869
Liverpool Daily Post 26 April 1869
Fever among the detectives of Liverpool deaths of two officers
On Saturday the authorities at the Central Police Office, Dale St, received information of the death of Detective Nelson LEES, aged 39, who expired at 4am this morning, after suffering a few days from typhus fever. He had latterly discharged the duties of crier of the court in which Mr RAFFLES, the stipendiary magistrate presides. Some ours later it was made known at the office that another officer of the force, Robert MARSDEN, had died that morning, and, as it was understood, of the same disorder. He, too, had been ill but a few days. The deceased men were in the prime of life, were very active, intelligent officers, and had been attached to the police force for many years. During their long period of service they had frequently been employed in important cases. MARSDEN leaves a widow Elizabeth, [nee ATKINSON] and ten children, all of whom are unable to provide for themselves, and LEES a widow and six children to deplore their loss. It seems that fever has been prevalent amongst the detectives of late. Two of them are now afflicted with it, and one is said to be in a precarious state.
Liverpool Daily Post 28 April 1869
The foul atmosphere of the Police Court
At the borough police court yesterday morning while Messers SAMUELSON and WHITLEY were sitting, Mr LAMPORT entered the court, and asked Detective Inspector HORNE what his opinion was as to the cause of the deaths of Detective officers MARSDEN and LEES. In one of the daily papers their deaths had been attributed to the impure atmosphere of the court.
Inspector HORNE said both men had died from typhus fever. In the case of MARSDEN it could not be said he died from the impure air of the court as he was seldom there. LEES daily duty was inside the court.
Mr SAMUELSON said that they as lay magistrates, could bear witness to the fact of the impurity of the atmosphere of the court, although they were only there occasionally. Mr RAFFLES the stipendiary magistrate, was seriously indisposed and it was alleged that medical men attributed his loss of heath through sitting in the court. He suggested that the court be adjourned to St Georges Hall, or some other convenient place, while the court was in its present state.
One of the reporters called attention to the fact that on the last occasion MARSDEN attended court he complained of the stench which came up from the passage by which the prisoners enter court Mr THORNLEY solicitor, and several other gentlemen spoke to the disagreeable nature of the odour from the place in question.
Mr LAMPORT was of the opinion that the impure air of the court arose not so much from bad ventilation of the court itself as from the fact that there was no ventilation for the cells below except through the court.
Mr WHITLEY thought the subject should be brought before the town council, and the magistrates concurred in requesting Mr ELLIS, the clerk, should make a communication to the mayor on the subject
Liverpool Mercury 14 June 1869
The MARSDEN and LEES subscription fund
An appeal has been made to the public on behalf of the families of the two police officers MARSDEN and LEES, who, died on the 24th April from typhus fever, caught whilst engaged in their duties at the police court, Dale St. It was in consequence of the disease of these two officers that the court was closed and measures adopted to improve the ventilation of the building, in the hope of preventing a further sacrifice of life. It appears that MARSDEN has left a widow and nine children, the youngest a year old. The other unfortunate deceased leaves a widow and five children, the youngest only nine months. The families are, as may be supposed, in a most distressed condition, and public sympathy is earnestly solicited on their behalf. Both men had been many years in the police force, and bore excellent characters. Mr J. GERRARD, Secretary, Lime St, Railway Station, has kindly consented to act as treasurer to the fund, and will receive contributions.
Burials Anfield Cemetery
Marsden, Robert 26 April 1869 39 years Police Officer 30 Fairy Street Everton 670 13389 Public Grave 14 736 Revd, J W Welsh Geo Turvey 352 CEM 6/1/3
Lees, Nelson 26 April 1869 51 years Police Officer 21 Virgil Street Liverpool 148 2955 Purchased Grave 5 971 Revd, F Wallace Geo Turvey 352 CEM 6/2/1
Death of Jackson JEFFERS, police-officer No 87 or 97, 1871
Liverpool Mercury, Feb 28th, 1871

A Liverpool Policeman poisoned

Yesterday morning shortly before 7am, Police-officer Jackson JEFFERS, No 87 was on duty at the foot of the staircase leading to the entrance of the police buildings to the courts above, a duty which he daily performed in addition to being acting inspector of the night patrols. Being somewhat thirsty [although a man of sober habits] he asked a man employed on the premises to fetch him a quantity of beer in a bottle. The was done and the bottle was deposited in the lower part of an old cupboard in a dark corner under the stairs. JEFFERS was informed of the fact and took advantage of a quiet moment to run to the cupboard and discerning a bottle and teacup on the top part of it, at once hurriedly poured out part of the contents and took a draught of the same from the cup. He had no sooner done so when he called out to the man that there was something wrong in the stuff.

It was then discovered he had taken carbolic acid, a bottle of which had been placed where he found it for disinfecting purposes. JEFFERS was at once urged to go to a chemist's near by, but refused to do so. In a few minutes a violent twitching motion was observed in him and he became exceedingly ill, in which case he was taken in a cab to the Royal Infirmary. He was quite insensible in the cab and on inquiries at the Royal Infirmary last evening the intelligence was given that he died about 5 o' clock. It is stated that between ten minutes and quarter of an hour elapsed between his drinking the liquid and his removal to the Royal Infirmary, owing to his own action in the matter. JEFFERS had been a long time in the force and was much respected. He leaves a wife and seven children, his residence was in Lowry St, Everton.

Liverpool Mercury, March 1st, 1871

A Liverpool Policeman poisoned

Coroner's Inquest

Yesterday morning shortly an inquest was held before Mr Clark ASPINALL, borough coroner, on the body of Jackson JEFFERS, police officer No 97, who died on Monday from the effects of poison.

The deceased was 38, and lived at 12 Lowry St, Everton, having a wife and 7 children. He had been upwards of 14 yrs in the force, in which he ranked as 1st class officer, and did duty as an acting-inspector.

Information was given [see above]

THOMPSON the fireman of the heating apparatus of the building, brought the ale in a bottle and placed on top of a pile of boxes in a lobby going from the foot of the stairs to the boiler house. On top of the boxes was also a cask of carbolic acid, which was produced and by which a man had met his death.

He was placed in a cab with Police-office BOYD, No 403, he became very ill and complained of his stomach and bowels, he had taken the acid by mistake, and became insensible in which state he was received at the Infirmary.

Drs CLEAVER, TURNBULL and BICKERSTETH saw him, and all was done to restore him, the stomach pump failed to withdraw any of the fluids administered to him, it was supposed the stomach was perforated by the action of the acid. He died at 5pm that evening having remained insensible since his admission.

The jury in returning a verdict of "Died from the cause of swallowing a quantity of carbolic acid in mistake"

The coroner handed to Major GREIG the sum of 5 pounds from the coroner's poor-box for the benefit of the deceased's wife and children. The following contributions were also made in court for the same purpose, James BANKS, porter at the Northern Hospital, 6s, Police-constable THOMAS, 3s, John THOMPSON, fireman, 1s, William NORRIS, foreman of the jury, 2s, and Edward JONES, a juror, 1s.

Liverpool Mercury, Mar 3rd, 1871

Funeral of a policeman

Yesterday afternoon Jackson JEFFERS, lately police-constable No 97, in the borough police force, was interred at Anfield Cemetery, a large number of the police being present. The funeral cortege started from the deceased's residence at Lowry St, Everton, and the funeral service was conducted by Rev J. ARMSTRONG of Cranmer Chapel. Amongst those present were, Chief Divisional Superintendent RIDE, Superintendent HANCOX, Detective-Inspector HORNE, 15 police inspectors, eight bridewell keepers, and 200 men from the north and north docks divisions.

After the interment, Mr RIDE addressing the officers present, said the deceased had been 15 yrs in the force, and everyone knew the highly efficient manner in which he had performed his morning duty at the police courts in taking charge of the door. His evening services over the warehouse patrol had been so satisfactory that the warehousemen were now raising subscriptions for the benefit of his widow and children. It would be a subject of regret to all that a man in the very prime of life should have been so suddenly snatched away, but his death had not been without its effects, as it had evoked a wide spread sympathy for his widow and seven fatherless children. He [Mr RIDE] had met a gentleman on that ground who, not for the first or second time had identified himself with charitable works, had volunteered to collect money for the deceased's family. No doubt, in a short time, a princely sum for a woman in Mrs Jeffers position would be raised. Mr RIDE concluded by referring to the generosity of the borough coroner, and the very kind remarks made by him at the inquest.

-------

Liverpool Mercury, 13 November 1871

Supposed suicide of a Liverpool policeman

About 11am yesterday William Edgar a police constable for many years on duty , in the South Dock Division, was found dead in bed at his residence, 13,Rockbrook St, Toxteth Park. From a letter and other papers discovered after his death, which will doubtless be, produced at the inquest, it is supposed the deceased committed suicide by taking a quantity of laudanum
Funeral of Mr M. J. WHITTY
Liverpool Mercury, June 14th, 1873
Funeral of Mr M. J. WHITTY
The remains of Mr M. J. WHITTY were interred yesterday morning in the family vault in the Roman Catholic portion of Anfield Cemetery. The Rev Canon CHAPMAN read the funeral service. The funeral cortege consisted of the hearse, three mourning coaches, in which were the relatives of the deceased, the mayor's carriage, and a number of private carriages. The principal mourners were Mr Walter WHITTY and Mr Alfred WHITTY, sons of the deceased, Mr Michael WHITTY, his nephew, Mr Thomas RUSSELL, deceased's son-in-law, and Mr NEIL, his brother-in-law.
There was a large attendance of the public, amongst those present, the Mayor Mr E. SAMUELSON, Mr Councillor PICTON, Mr Councillor J. WHITTY, Major GREIG, chief constable, the Rev J. Major LESTER, Mr J. SAMUELSON, Mr M. WILLIAMS, Mr F. ARCHER, Mr E. R. RUSSELL, Mr J. B. COOPER, Dr MANIFOLD, Dr LYTH, Captain BERRY, Mr Barry SULIVAN, Mr J. WILLOX, Mr T. LEE, Mr HARBORD, Mr JOHNSTON, Mr T. W. HUGHES, Mr HAIMES and other gentlemen. A body of fire police under Mr Superintendent HANCOX [the fire brigade having been formed during the head-constableship of Mr WHITTY] also attended the funeral.
Death of Detective Inspector Carlisle
Liverpool Mercury, Nov 14, 1878
Death of Detective Inspector Carlisle
One of the best-known and most popular members of the Liverpool police force has passed away. Few men in Liverpool were better known than Detective Inspector CARLISLE. Scarcely a royal visit took place, no grand ball or ceremonial recently occurred without the inspector or "Charley" as he was familiarly called, being present in his official capacity. His days of duty and ceremonial are now over, his easily recognisable figure, pleasant face and stalwart frame will no longer be seen at these places where he became so regarded as one of the indispensables, for after a brief, but painful illness, this most genial and successful of thief-catchers has gone to his long rest.
A few months ago Mr CARLISLE, who fell ill, was advised by the chairman of the watch committee Mr J. G. LIVINGSTON, to take a period of rest. The committee gladly accorded to the inspector the necessary leave of absence and he went to the Isle of Man to recruit his health. The change gave him some slight benefit, but on his return home he again got worse, and died yesterday morning. The deceased was in early life a shoemaker. He entered the borough police force as an extra-constable on December 17th, 1849, aged 24, and at the end of June the following year he became a full constable. On July 24th, 2 yrs later he had advanced his position to 1st class constable, and a couple of months later to that of Inspector, and was made detective constable on November 19, all in 1852, and his appointment to detective-inspector on May 22nd 1860. That he satisfactorily discharged his duties will be gathered from the list of rewards made to him :-
Feb 26th 1867, presented by Chief-constable SMITH head of Cheshire police force, with a gratuity of 5 pounds -5s, on him furnishing timely information on the intended Fenian attack on Chester Castle. On Oct 15th he received another reward for special services in connection with the Fenian movement, which involved peril to himself.
The French Government in the following year presented him with 37 pounds -10s in acknowledgment of his exertions in a felony case On Oct 18th 1870, the British Association rewarded him for special services.
On May 28th 1872, H.R.H, Prince Arthur presented him with a gold pencil case, accompanied by an autographed letter in recollection of the visit to Liverpool of his royal highness in that year, and "for the detective-inspector's admirable discharge of his duty on the occasion"
On May 20th 1873, the inspector received from the King of the Belgians through Viscount TORRINGTON, a gold breast pin in recognition of his attention to his Majesty during his visit to the town.
On Oct 20th 1874, he also received from the Duke of Edinburgh a gold breast pin, and on Dec 12th, the same year, his salary was increased to 180 pounds per annum.
The deceased was highly esteemed by Major GREIG, C.B, Head Constable and the watch committee, he was a great favourite with the magistrates, before whom he had often to appear on police business, and was much liked by his colleagues in the force.
During his time he was instrumental in bringing many notorious criminals to justice. Whatever duty he had to do was discharged in a pleasant, gentlemanly, yet thoroughly brave and zealous manner, and by his death the public have lost a very valuable, yet withal most modest man.
At the borough police court yesterday morning, Mr RAFFLES, said, "I am sorry to hear on reaching court today of the death of Inspector CARLISLE, at 2am this morning. He had been for a long time a regular attendant in this court. That I cannot pass over his death without notice. He always conducted himself here and elsewhere with the greatest propriety, and was ever ready to attend to the suggestions of this bench and to carry out their instructions with promptness and carefulness.
Considering that he had no legal training, he conducted the business of this court in the absence of Mr DAVIES in a manner entirely satisfactory to me. The police force has lost a valuable officer by his premature death, which we all regret."
Mr MURPHY, solicitor, said he was only too glad to have the opportunity of making a statement which Mr CARLISLE merited from every professional man who attended the court. Having observed Mr CARLISLE'S conduct in cases of prosecution times without number, he had always noticed on his part a spirit of fairness which was highly honourable to him as a man and as an inspector of the force.
Mr RAFFLES agreed with Mr MURPHY, Mr Worship expressed his concurrence with the remarks that had been made by Mr MURPHY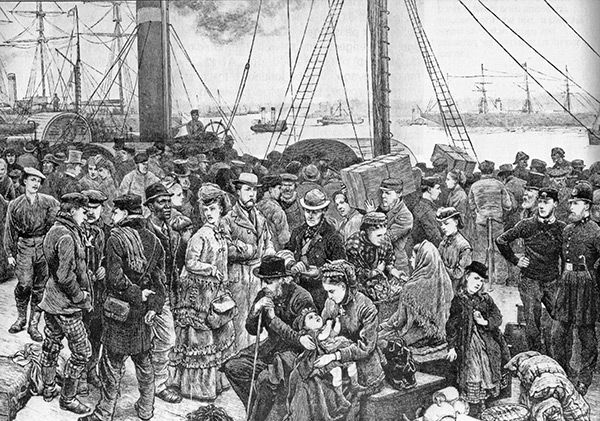 Prince's Landing Stage, 1874, The Graphic,? "Charley CARLISLE" in attendance
An extract from the Graphic, August 1872
Liverpool and its steam fleets
The Prince's Landing stage is seen to most advantage on the departure or arrival of the great steamers, the variety of the nationalities, for the moment huddled together, the concentration of strong emotions of hope and fear in some, the recklessness and indifference in others, together with the eccentricities of costume, form a tableau which once seen will always be remembered. Passengers are conveyed to the steamers by tugboats from the Prince's stage, the stolid German emigrant with his frau and children smokes his long pipe as calmly as though crossing the Atlantic to a new home was an everyday incident of his life. Americans with their sharp features, peaked beard, glossy boots and coats, and the everlasting drawl, everywhere predominate, and above all the Babel-like hubbub and apparent confusion, the great steamer's heart throbs impatiently, as though longing to speed away. The calmest and coolest person on board is a tall, well-built man in a shooting suit of grey, whom you would set down as a country gentleman from the midland counties, and who appears to take a good humoured but rather lazy interest in all that transpires. In reality, however, our friend is one of the most experienced Liverpool detectives, known in select circles as "Charley CARLISLE" and depend upon it, if there be a bank forger or fraudulent debtor on board or any publican or other sinner who has eloped with his neighbour's wife and cashbox, CARLISLE will not leave the ship without that particular culprit in his grasp
Funeral of Superintendent KEHOE
Liverpool Mercury, Jan 31st 1881
The late Mr Superintendent KEHOE
The funeral of the late Mr Superintendent Lawrence KEHOE, who was for many years at the head of the detective department of the city police took place yesterday afternoon at the burial ground of the Catholic Church Gill Moss, and the high regard in which he was held by the members of the force was shown by the number of officers of all grades who attended to pay their last tribute of respect to his memory. There were also too many private friends present at the grave side.
The funeral cortege which consisted of a hearse and 28 carriages left the residence of the deceased at Oxford St at 2.30pm and arrived at Gill Moss shortly after 4pm. The chief mourners were Mr Lawrence KEHOE [son], and Mr Thomas ROACH and Masters Michael and John ROACH. There were also present Major GREIG, C.B, Head-constable, Chief-superintendent George WILLIAMS [chief of the detective department] Chief-superintendents A. SIBBALD and J. HANCOX, Mr KISSACK, Chief-clerk, John WILSON, storekeeper, Detective-Inspectors, PARKINSON, MARSH, John JACKSON, and BOYCE, Detectives, M. SCAIFFE, R. JONES, J. COUSINS, Thomas STRETTLE, J. IRVINE, CHISWELL, GLYNN, JOHNSON, M'CONCHIE, ROBERTSON, M'KENNA, HALE, TOMLINSON, BATTY, MORNAN, Inspectors, BUGGY and MAWDSLEY. There were also present Councillor Alex BLIGH, Dr John BLIGH, Dr O'FEELEY, the Rev Father RETCH, the Rev Father GAGHERAN, Messers, Martin RANKIN, Thomas SMYTH, Joseph HAYES, Edward DARBY, MURPHY [chief-constable of the Irish Constabulary], MANNING [Irish Constabulary], SWEENEY, MAGUIRE, Joseph WALTON, William WRIGHT, John WRIGHT, Mark WRIGHT, Joseph SIMPSON, Charles CONNOR, DERBYSHIRE, William HERN [late Inspector of Detectives], SWEENEY [late bridewell keeper], J. FLYNN, Patrick BYRNE, Martin SHORT, William MASON, LENNON, J. ALLAN, Thomas ROBERTS, FLINN, M. CONNOLLY, J. R. BRUCE and others. The body was borne from hearse to the church by Detectives, GLYNN, M'CONCHIE, HALE and M'KENNA, and from the church to the grave by Inspectors, MARSH, PARKINSON, JACKSON and BOYCE, the pall bearers being Mr E. DARBY, and Detectives IRVINE, JOHNSON and STRETTLE. The funeral service was conducted by the Rev Father WALKER assisted by Father EVERARD and Father YATES. The funeral arrangements were carried out by Mr BRUMBY of Bean St.
---------
Liverpool Mercury 17 July 1882
The funeral of W. Wigglesworth (P.C. 84), of the Liverpool police force, who died of lung disease, took place on Saturday, at Smithdown Rd Cemetery. There were present Inspectors Rogerson, Hamilton, Watt, Hodson, Dawson, Jennings, Clerk McCoy [Seel St, station] and a body of police constables. The deceased leaves a widow and three young children, and he was the only support of his mother who is now aged 70.
---------
Liverpool Mercury, December 3rd, 1886
Suicide of a Corporation Official
Shortly before noon yesterday, Peter BALL, the superintendent of the Frederick St, washhouses, belonging to the Corporation, committed suicide by taking poison. It is said that the deceased has latterly been addicted to drinking, and was at times delirious. Police Sergeant DINSDALE was called into the house of the deceased, 16 Collins St, Park Rd, by Mrs BALL at about 12.30, and she informed the constable that her husband had taken a quantity of carbolic acid, which he had purchased at the shop of Mr HUGHES, chemist, in Mill St. When she had discovered that her husband had taken poison she immediately summoned Dr CAMPBELL of High Park St, but the medical mans services were to no avail, as on his arrival he found BALL was dead., and he gave it as his opinion that death was due to carbolic acid poisoning. The deceased was 45 years of age and leaves a family of seven children, the eldest of whom is 15 years. He had held the position of superintendent for several years, was previously weight taker at St Johns Market and formerly a member of the River Police Force. As a servant of the Corporation he enjoyed a good character.
---------
Morning Post, 26 March 1890
A Constable's Extra Duty.
A Liverpool police-constable named Wendy attempted to commit suicide yesterday morning by cutting his throat. His wife said that the extra duty entailed by the dock strike bad affected her husband, and he had talked incoherently in his sleep. He is now in hospital.
Death of John GUY, Police-officer No 1, the oldest police-officer
Liverpool Mercury Dec 9th, 1890
Death of the oldest Liverpool police-officer
The death is announced of John GUY, aged 95, of Fonthill Rd, Kirkdale. The deceased was No 1, in the Liverpool police force for many years prior to his retirement 20yrs ago. In his younger days he was a soldier and fought at the battle of Waterloo, and for his services there he was in the enjoyment of a pension up till the date of his death on Sunday last. His funeral takes place today at Rice Lane, Walton
Funeral of Superintendent WOOD
Liverpool Mercury, May 25th, 1891
Funeral of Superintendent WOOD
The funeral of Superintendent WOOD who was the head of E. Division of the city police force took place on Saturday afternoon in the Anfield Park Cemetery. Mr James WOOD, who was 60, had been in the force for ? yrs, part of the time being spent in the Liverpool Fire Brigade, and his figure was a familiar one in Everton and Kirkdale, his duties in late years keeping him principally in those districts.
After a short illness he died on Tuesday at his residence adjoining Westminster Rd, Police Station. That he was greatly respected was apparent from the number of comrades and friends who assembled at the grave side to pay their last tribute of respect to his memory. The funeral was of a semi-military character, the magnificent polished oak coffin, which was covered with wreaths being conveyed from the residence of the deceased to the cemetery on a hose carriage [from the Fire Station] drawn by two horses. On the coffin was placed the deceased helmet and belt. Preceding the hose carriage there marched 100 constables headed by the band, which played the "Dead march".
The mourning carriage contained Mrs WOOD [widow], Mr James WOOD and Mr Archibald WOOD, [sons], Mrs SCOTT, [daughter], Mr and Mrs SPENCER, [son-in-law and daughter], the Rev Dr MACPHERSON, [Everton Valley Presbyterian Church], Rev Alexander GRIEVE, [Queen's Rd, Presbyterian Church], Captain J. W. Nott BOWER, [head constable], Mr Harry ALLBUTT, [dept head constable], ex-superintendent DAWSON, ex-inspector FITZIMONS, Sergeant SMITH, [Main Bridewell], Detective Inspector STRETTELL and Chief Superintendent HANCOX, Mr E. SPERRIN, [chief clerk, Police Office], Mr George LEDDOR, [governor of the Min Bridewell], ex-Detective Inspector JACKSON, Mr CHISWELL [late of the Police Court], Dr Alfred MACHPERSON, [police surgeon], Mr Henry JENNINGS, [superintendent St George's Hall], Mr F. R. CALDWELL [account clerk Police Offices], Mr R. S. GODSELL [relieving officer], Mr W. WRIGLEY, Superintendent Morgan O'BRIEN, [Prescot St Station], Superintendent Robert GRETNEY, [Essex St Station], Superintendent PARKINSON, [Rosehill Station], Superintendent M'WILLIAM [Hatton Garden Fire Station], Acting Superintendent HOOKS, Superintendent JONES of the Salvage Brigade, Detective Inspector M'KENNA, Inspectors, CHURCHILL, JACKSON, SIMPSON, LAWRENCE, TAYLOR, Detective Sergeant BAILEY, Mr SHIMMIN, [superintendent of the Water Department], etc. Following the cortege on foot were the officers and constables who, although not attached to E. Division, wished to attend the funeral, and the men belonging to E. Division walked in single file on each side of the carriages. The procession which was formed in Bradewell St, was also joined by members of the Salvage and Fire Brigades, as well as watermen and county office constables. The line of route to the cemetery was kept by members of the city force, and the procession was met at the gates of Anfield by a large body of county constabulary under Inspector SHAUGHNESSY, HUTCHINSON, HINDE and BAXENDALE. Wreaths of beautiful flowers were sent from each of the city police divisions and from the police staff. The services at the house, the church, and the graveside were taken part in by the Rev Dr MACPHERSON and the Rev A. GREIVE. The police arrangements were in charge of Superintendent PARKINSON and Acting Superintendent HOOKS. Mr J. LEARY, Breck Rd carried out the funeral arrangements, and Messers FISHLOCK supplied the flowers.
Funeral of Inspector MACDONALD
Liverpool Mercury, April 21st 1892
Funeral of Inspector MACDONALD
The funeral took place in Liverpool on Monday afternoon of Detective Sub-inspector Donald MACDONALD, of the Liverpool police force. The funeral service was conducted by the Rev Donald FRASER. Amongst those present at the graveside were Mrs MACDONALD [widow], Miss MACDONALD [daughter, Mr William MUNDY, [brother-in-law] Superintendents PARKINSON and CRETNEY, Chief Inspector IRVINE, Inspector JOHNSON, Sub-inspectors, BRYSON, ROBERTSON, COLLINGWOOD and GRAY, Mr J. ALLISON [Chief-constable of Tunbridge Wells], ex-Inspectors J. M'CONCHIE, and R. HUDSON, Mr George NORRIS [Liverpool], Detective-sergeants, MYLCHREEST, KNEELE, LAMOTHE and EGERTON, Detective-constables WOODSIDE, RAMAGE, HARRISON, FORD, WILSON, GEDDES, W. ALLISON, PRITCHARD and others.
The coffin was of polished oak with brass mountings and plate, the latter bearing the inscription, "Donald MACDONALD, Died 15th April, 1892, aged 39" A number of beautiful wreaths covered the coffin, among them one sent by the late brother officers of the deceased, as "a small tribute of respect from his comrades in the Detective Department", supplied by Messers FISHLOCK and Co. The funeral arrangements were carried out by Messers LARKIN and Co, of Lime St.
The sudden death of Sergeant ROGERS, 1894
Liverpool Mercury, Aug 27th, 1894
Sudden death of a Liverpool Policeman
Sergeant ROGERS a much respected member of the Liverpool City Police Force died on Saturday afternoon under circumstances of a painfully sudden nature. It appears that the police cricket team journeyed to St Michael's in order to play a match with the Aigburth Club for the benefit of W. RICHMOND the groundsman. The policemen went in first, and the deceased sergeant was the last member of the team to be called upon to go to the wickets. After concluding his innings he returned to the pavilion and when in the dressing-room took off his cricket pads. Directly afterwards he was seized with a fit and became unconscious. Without a moment's delay a messenger was despatched for medical assistance, but on the arrival of Dr H. MURDOCH that gentleman pronounced life to be extinct, death being due to syncope. In the meantime a telephonic message had been sent for the southern horse ambulance, but when it arrived its services were not required. The County Police were communicated with and Sergeant FOSTER procured a stretcher on which the body was removed to Lark Lane Police, Mortuary.
The deceased sergeant joined the police force 16 years ago, and after three years service left and took the position of taskmaster at the Brownlow Hill, Workhouse, having remained there for about 12 months, he again joined the police force and was made a sergeant in 1885. When first a member of the force he was attached to A. Division, but a short time ago was transferred to C. Division. Mr ROGERS was 37 and leaves a widow and 5 children. The funeral will take place at Smithdown Rd, tomorrow, from the deceased late residence 38 Alt St. The death will not form the subject of a coroner's inquiry.
------
Manchester Evening News 23 June 1894
Fatal mistake of a policeman
A melancholy affair is reported from Old Swan Police Station, near Liverpool. Yesterday afternoon Police-constable William Shaw, a fine young man of 25, remarked that be felt dry. Another officer told Shaw he would find some beer in a cupboard in another room. Shaw went away, and on returning his lips were discoloured, and it was discovered he had swallowed carbolic by mistake, medical aid was called in, but he died in about two hours.
Funeral of John COBHAM
Liverpool Mercury, Dec 21st, 1894
Funeral of a Liverpool Constable
Yesterday the remains of John COBHAM, late Police Constable 91, E. Division, of 104 Chirkdale St, were interred at Everton and Kirkdale Cemetery. The deceased who had recently been in plain clothes, was in the force for about six years, and was much respected.
Amongst those present at the funeral were Acting Superintendent LAWRENSON, Inspectors STOWELL and CLAPHAM, Detective Inspector KNEALE, Detective Sergeant BAILY, Sergeants, FLINT, BRYAN, FOSTER, PICKERAM, BALLAM, COWMAN, CROSSETT, CLUCAS, BIRMINGHAM [all of E. Division] BAIRD and TEAR [D. Division], BROWN [A. Division], and about 60 constables and other friends. The officiating minister was the Rev Dr M'LELLAN of St Andrew's Everton Valley. Funeral arrangements by Mr J. DALY, Scotland Rd. A number of beautiful wreaths covered the coffin, some sent by the men of E. Division. The police who attended were accommodated by the kindness of Mr Superintendent OWENS of the Tramway Company, with a car from the town to the cemetery.
Death of Sergeant William ENGLAND
Liverpool Mercury, April 20th, 1896
Death of Sergeant William ENGLAND
Yesterday morning Sergeant William ENGLAND of the Liverpool police died in the Royal Infirmary from the effects of typhoid fever. Mr ENGLAND joined the force about 11yrs ago, after performing street duty for some time he was transferred to the statistical department of the Dale St, Detective Office. Being an official of more than average ability he was placed on the detective staff, and some 5yrs ago promoted to the rank of sergeant. Recently he filled the positions of assistant corresponding clerk and property clerk. Whilst engaged at the last assize he took ill and on reaching home was examined by Dr BUSHBY, who found he was suffering from an attack of typhoid fever. So serious became his condition that he was transferred to the Royal Infirmary, where he progressed favourably until yesterday when a change for the worst set in and he died. He was a native of Appleby, Westmoreland, where his father was a well-known school-master, and took a prominent part in the affairs of the Liverpool Police Athletic Society, being an able cricketer. He was a general favourite among his colleagues, was only 33 yrs old and leaves a widow and two children, aged 3 and 10yrs.
Liverpool Mercury, April 23rd, 1896
The remains of Sergeant William ENGLAND of the Liverpool police were laid at rest in West Derby Cemetery yesterday in the presence of a large number of friends and colleagues. The chief mourners were Mrs ENGLAND [widow] Mrs LUMADEN [mother-in-law], Mrs Harriet BOWERBANK, Mrs ROGERS, Mrs NOBLE, Mr SCOTT, Ex-detective-inspector JACKSON, Detective-sergeant HOLBROOK and Detective-constables, BELL and COWEN. Amongst those present were Superintendents, SPERRIN and JOHNSTON, Detective-inspectors FISHER and BUGGY, Sub-inspector PETERS, Ex-inspector MAXWELL, Inspector BRYSON, Detective-sergeants R. DUCKWORTH, GIBBINS, OSBORNE, WHITE, JONES, KELLY and FORD, Detective-constables, MOORE, GRACEY, J. W. JONES, TAYLOR, CLAXTON, STEVENSON and MULLINS, and Mr NICHOLSON [hon sec Police Christian Association]. The funeral service was read by the Rev W. H. HARPER. Wreaths were sent by the detective department Dale St, the Police Athletic Society, ex-Inspector MAXWELL and Mrs NOBLE.
The funeral of a Police-inspector DAVIES, 1896
Liverpool Mercury, Nov 17th 1896
The funeral of a Police-inspector DAVIES
The funeral of Mr John DAVIES, ex-police-inspector, took place at Smithdown Rd, Cemetery, yesterday afternoon. Among those who attended were ex-inspector M'NAUGHT, ex-inspector FOULKES, Messers J. EVANS, J. STEWART, E. P. O'DONNELL, R. GUY, R. TEGGIN etc. The brass shield bore the inscription, " John DAVIES, died Nov 13. 1896, aged 62 years. The burial service was read by Rev E. BURNS of St Nathaniels, and the funeral arrangements were in the hands of Messers T. PORTER and Son, Toxteth Park.
Evening Express January 16th 1899
Funeral of Liverpool Police Officer
The remains of the late Police Constable MACDONALD of the Hackney Carriage Department of the Liverpool Police Force were interred on Saturday at West Derby Cemetery. The deceased who died in the Northern Hospital after a few days illness was 41 years of age, and had been a member of the force for upwards of 19 years and was highly respected.
The principal mourners were the widow and children of the deceased, Mrs ARMSTRONG [sister], Sergeant ARMSTRONG [brother in law], Mrs FRASER [sister in law] and Miss WOOLLEY [niece]. There was also present, Chief Inspectors, BREEZE and YUNNIE, Inspector JONES, Sub Inspector W. JONES, Mr W. SHIMMIN [Hackney Carriage Department], Mr A. D. HARPER representing the Town Clerks, Sergeants HAMMOND, GIBSON, SEATON, McLELLAN, VAUGHAN, B. JONES and a number of police constables, Ex Inspectors, MAXWELL, DAVIES, LAWLER, EDMONDSON and MORRIN, Mr TAVERS, Moorfields, Mr McKENZIE, Moore Place, Mr Alex McKAY, Mr Tom WATSON representing Liverpool Football Club, and others. The car owners of Liverpool were represented by Messers MAGUIRE, RIMMER [on behalf of Mrs GRIFFITHS, GREENING, J. PAWLOWSKI, CAMPION, CALVIN, LENNON, REECE, PECKENHAM, SCOTSON, HIGHTON, DAVIES and DRAKE, together with a number of drivers. A number of car owners sent a contingent of carriages as a mark of respect, these proved very useful for the conveyance of the comrades of the deceased to the cemetery.
The deceased was borne to the grave by officers, HARTLEY, PARR, KENNAUGH and BROWN of the Hackney Carriage Department. Beautiful wreaths were sent by his comrades in the force the officials of the Town Clerks Office, and others. Conspicuous amongst these were two magnificent wreaths from the cab drivers of Liverpool, one representing an anchor the other a cross, both accompanied with a suitable inscription. The funeral arrangements were carried out by Messers DALY and Co, 302 Scotland Rd.
Death of Liverpool Police-constable Brownlow LOCKE, 1907
Dec 4th, 1907
Liverpool Policeman killed
Brownlow LOCKE, Liverpool policeman, met with a fatal accident through one of two massive sliding gates at the entrance of the Sailor's Home falling on him and fracturing his skull. At the inquest yesterday it was stated that each gate is provided with two guard chains, and that the lower chain of one gate has been broken for two months and tied with spun yarn. It was while LOCKE was helping to close this gate that the accident happened. The Coroner considered that the facts of the gates not having been repaired for five years pointed to laxity. The assistant doorkeepers should not have allowed the chain to remain in such a state, Hence, said the Coroner, they had the moral reflection of being responsible for LOCKE'S death. A verdict in accordance with the medical evidence was returned.
Death of Liverpool Police-constable Thomas M'EWAN, 1907
April 22nd, 1907
Police Officer killed
On Saturday morning the Deputy Coroner held an inquest with regard to the death of Thomas M'EWAN, aged 45, a constable in the Liverpool Police Force, who had been crushed between two railway waggons while engaged in guiding traffic out of the Great Central Railway Company's Goods, Depot, in the north end of the city. M'EWAN was given an excellent character, he had been a member of the force sine 1886, and had not during his 21 years service had a mark against him. He was a brave man and for his intrepid conduct in stopping a runaway horse had recently been awarded the silver medal of the Humane Society. A verdict of "Accidental death" was returned.
Death of Ex-Superintendent Charles EGERTON
Liverpool Mercury, Feb 1st 1908
We record the death of Ex-Supt Charles EGERTON, which took place at his residence 88 Gregson St on Sunday, he was 65 yrs old. He joined the Liverpool Constabulary in 1861, while the late Major GREIG was head of the force, in May 1872 he was made Detective Constable, under the late Supt KEHOE, in May 1880, he was promoted to 4th Class Inspector. In 1881 he was appointed under the Explosion Act as Inspector for Liverpool and the Dock Board, and in Sept 1895 appointed Supt of D. Division, Rosehill. In May 1896 he resigned on Superannuation.
Death of Liverpool Police-constable Henry PHILLIPS, 1911
Aug 16th 1911
Liverpool Tuesday
A policeman named Henry PHILLIPS, who was on duty during the riot in Great Homer St, last night, died today, but not from injuries. He had been in poor health, and it is believed that he suffered from the great strain of the battle.
--------
Dundee Courier, 19 May 1913
Policeman found dead
Timothy M'Hugh, a Liverpool police constable, died in hospital under circumstances giving rise to suspicion of foul play. A constable found M'Hugh, who was plain clothes, lying unconscious in a public lavatory with wound at the back of the head. M'Hugh was conveyed to hospital where he died later the same day. Police believe that from the position of the wound it could not have been caused by a fall.
M'Hugh was in plain clothes, no one but his friends would know that he was a police constable. The place where he was found was approached by a narrow staircase broken up into several short flights, which tends against the theory that the injuries could have been caused by a fall. The police are inclined to think that the injuries are far too severe to have been caused by accident considering the circumstances. It is said there are other injuries including a broken limb. At present the affair is a complete mystery, an inquest will be held today.
--------
Liverpool Echo 28 July 1914
Horse went on, serious accident to a mounted constable
Early to-day a startling accident occurred to a member of the Liverpool mounted police, (Police-constable Hogel), He went to Brunswick Dock for an accident case, with the horse ambulance, and while returning, the ambulance suddenly struck some obstruction or side slipped.
The result of the jolt was that Hogel fell from his high seat heavily to the ground, sustaining severe injuries. A policeman was inside the van, but knew nothing about the accident, as the horse did not pull up but went straight on, until another policeman saw there was something wrong and stopped the animal.
He then inquired from the officer in the van as to the whereabouts of the driver. Both went back over the ambulance track together and found Hogel lying on the ground unconscious.
He was conveyed to the Stanley Hospital suffering from concussion to the head and remains an inpatient
Death of St Helens Police constable, Thomas GRUNDY
Feb 1st 1914
Constable's Tragic end
A St Helens Police constable, Thomas GRUNDY, was assisting another constable yesterday morning in arresting two men who had been fighting, when he dropped dead.
-------
Extracts Liverpool Echo
Liverpool City Police
Liverpool Echo, 1914
RACE, Aug 30th, Victoria B.C, John Nimrod RACE. Late Superintendent Liverpool Mounted Police
HOWCROFT, Oct 31st, killed in action at Ypres, Thomas aged 32, dearly beloved husband of Mary, 10 Flaxman St. Leaves a wife and six children. Late Liverpool Police
COOKSON, 26th Nov, died of wounds received in action at Rantul Belgium, J. A. COOKSON, Coldsteam Guards, late Liverpool City Police, 11 Pythian St
Liverpool Echo, 1916
HALE, March 26th, 77 Rupert Lane, William, ex-detective inspector Liverpool City Police.
HUTCHINGS, Dec 9th, died from poisoning from wounds received in action, Sept 25th, Private S. HUTCHINGS beloved husband of Lily [nee BAGGALEY] , Scots Guards late of Liverpool Police.
Liverpool Echo, 1917
KITCHEN, March 19th, at the residence of his son, 21 Victoria Rd, New Brighton, John dearly beloved husband of Ellen, ex-inspector Liverpool Police
DOWSON, April 23rd, killed in action, Frank, M.T, A.S.C, attached to Liverpool Police, beloved husband of Lydia.
WILSON, June 9th, died from wounds received in action Lance Corporal Benjamin Thomas WILSON, aged 27, Canadian Forces, Late Liverpool Police Force, D. Division, Royal North West Mounted Police, Alberta, Canada. 2nd son of A and E. WILSON, 109 Royston St, Edge Hill.
--------
Liverpool Daily Post 25 January 1916
A verdict of Accidental death was returned at an inquest yesterday into the death of Angus MACKAY, aged 84, a retired police officer, who was knocked down by a tramcar on Friday last, when crossing Smithdown Road, the driver was exonerated from blame.
Liverpool Echo 26 March 1918
Mr John ARCHIBALD, the oldest police pensioner, who retired 40 years ago, has died
------
Manchester Guardian, June 18th 1923
Policeman drowned in dock
An inquest was held at Birkenhead on Saturday on Police Constable George DALEY, who had been missing since June 3rd, and, whose body was found in the Morpeth Dock. He had been on night duty at the dock, and it is surmised that in the dark, stormy weather then prevalent he tripped over a mooring rope and fell into the water. A verdict of found drowned was returned.
.................
Sept. 11, 1928, Nottingham Evening Post
End of a holiday tragedy
Liverpool Police Sergeant killed
Police Sergeant A. E. CRUMPTON, a popular member of the Liverpool Police Force, was killed near Kidderminster yesterday when his motor cycle and sidecar collided with a motor van.
Sergeant CRUMPTON'S wife who is a native of Kidderminster had been staying there on holiday with her child. It was on his way to bring them home when the accident happened. He had been in the Liverpool Police Force about nine years and was promoted to sergeant three years ago.
-----
May 31st 1929, Western Times
Liverpool Tragedy
Fatally injured man found outside theatre
James CAMPBELL, 35, of Rokeby Street, Liverpool was found lying unconscious outside the stage door of the Royal Court Theatre, Queen's Square, Liverpool, early yesterday with a severe injury to the left side of his head and abrasions on other parts of his head and face,
He was taken to the Royal Infirmary but was found dead on arrival. The Liverpool C.I.D. are investigating the circumstances, and a man has been detained.
Adventurous life of the dead man
James CAMPBELL, in connection with whose death a man has been detained by Liverpool Police, was a former police constable of Liverpool City Force.
It was stated CAMPBELL was found unconscious after a fight in the street.
He was the eldest of a family of eight and lived with his four brothers and three sisters, their parents have died some years ago.
CAMPBELL who was over 6 feet in height, had thrilling adventures in the war, being wounded at Mons, and afterwards reported missing when a mine sweeper on which he was serving was blown up in the North Sea. Then a hospital ship reported that CAMPBELL had been picked up nearly dead on floating wreckage. He served four years with the Liverpool Police and in recent years had been travelling about the country selling dolls and toys.
May 31st 1929, Aberdeen Journal
Fatal stage door fight
Commercial Traveller charged with murder
An early morning fight at the stage door of a theatre, witnesses by the patrolling light fireman, who after one of the contestants had been knocked unconscious advised his rival to remain until the ambulance arrived, was described to the Liverpool Stipendiary yesterday, when John AUSTIN, aged 39, an unemployed traveller of Chatham Street was charged with the manslaughter of James CAMPBELL of Rokeby Street.
Between 2 and 2.30 am yesterday Samuel THOROUGHGOOD a fireman at the Royal Court Theatre, Liverpool said he saw the accused, the deceased and two other men in Rose Street near the stage door.
The accused and CAMPBELL struggled on the ground, he said, as though they were wrestling, and afterwards got to their feet and indulged in a fight.
The accused struck CAMPBELL several times and knocked him to the ground. He sustained injuries to the jaw, head and nose, apparently caused by blows and the ambulance was sent for.
A constable gave evidence that when he got to the scene the accused was standing by the injured man, who was lying on the parapet, propped up against the wall of the theatre stage door.
Blood was running from his nose and he was conveyed to the infirmary, the prisoner accompanying him. CAMPBELL died on the way and AUSTIN was taken into custody.
A remand for 7 days was granted, bail being allowed.
.....................
The Manchester Evening News Mar 21st 1939
They died after visit to grave
Found dead in a gassed filled bedroom, a constable and his daughter had visited the grave of his wife it was stated at a Liverpool inquest today.
The inquest was on William John CUMMING, a constable in the Liverpool Police Force, aged 32 of Tinehurst Ave, Anfield and his eight year old daughter Shiela.
Constable Charles Edward HALL said that the wife of CUMMINGS had died just before Christmas and he felt her loss severely.
The Liverpool City Coroner Mr G. C. MORT, said that CUMMINGS was a man of good spirits, with a good record and suddenly his feet were cut from underneath him He was becoming beaten down by fate and was becoming more and more depressed.
The jury returned a verdict that CUMMINGS took his own life and murdered his daughter while the balance of his mind was disturbed.
--------
Western Daily Press, 16 March 1933
Bride to be finds PC, fiance dead
A verdict of, Suicide whilst of unsound mind, was recorded at an inquest at Liverpool yesterday on Police-constable Sidney Walls (,30). whose fiancee found him gassed in a house in Liverpool, which they had taken and were furnishing. They were to have been married on March 25th.
It was stated that Walls had worried over the death in September of his father, to whom he was greatly devoted, and because his mother would be left alone when he married.
Death of Sir William NOTT-BOWER
Feb 5th 1939
Death of Sir William NOTT-BOWER
Within 6 weeks of his 90th birthday, the death occurred at his home in Richmond Surrey, yesterday of Captain Sir John William NOTT-BOWER. He was the senior surviving ex-Chief of the Liverpool police, where he held the office off "Head-Constable" from 1881 to 1902. It was after he had relinquished the office that the title of the appointment was changed to, "Chief-Constable"
On his appointment as Head Constable of Liverpool City Police in 1881, his salary attached to the office was 750 pounds per annum, he was 33 yrs of age, and had been for three years chief-constable of Leeds. Captain J. W. Nott Bower was the son of Mr J. Bower D.C.L, barrister-at-law, of York and grandson of the late General Sir W. Nott, G.C.B. He was educated at Cheltenham College, and at the Royal Military College, Sandhurst, where he took the third place on the list, and obtained a commission without purchase in the army, he had been formerly in the 8th King's Liverpool Regiment and was also in the 5th West York Militia. In 1873 he obtained an appointment as Sub-Inspector [chief constable] of the Royal Irish Constabulary, in which he served for more than five years, receiving a thorough police training. He was in command of large parties at the Limerick election, at Tipperary, when Mitchell contested the county, and a Newry and Lisburn in times of disturbance from party processions.
From Liverpool he went to London and was Commissioner of Police of the City of London from 1902 to 1925.
Death of Constable Thomas BENN 1941
Liverpool Daily Post, March 31st 1941
Five dead in house fire
Fatal rescue efforts of Police Constable
A Liverpool Police Constable lost his life in a gallant rescue attempt, and four other people were fatally injured as a result of a fire which broke out in a house 73 Laxey St, Toxteth Park, Liverpool, in the early hours of Saturday morning.
The dead officer was Constable Thomas BENN, aged 25, of Glendevon Rd, Liverpool. The other four occupants of the house who lost their lives are Mrs Annie CAMPBELL, aged 43, her son Patrick, aged 10, and her daughter Annie, aged 15, James CAMPBELL, the father, died in hospital later.
The fire was reported at Essex St, police station and after the fire brigade had been warned, Constables BENN and LACEY were sent out to give what assistance they could. Both entered the burning house. Constable BENN succeeded in rescuing Marie CAMPBELL, a 17 year old daughter, and apparently returned to try and lift Mrs CAMPBELL and the two children from the bed on which they were overcome, before he, in turn was rendered unconscious and he was discovered dead by the bed, with the remainder of the family, by the fire brigade.
James CAMPBELL the husband of the dead woman, hung from a ledge on the second floor of the building and sustained fatal injuries when he was forced to relinquish his hold. Marie CAMPBELL was taken to hospital, as was Constable LACEY, who was himself taken from a window suffering from burns, after he had entered the house to try to rescue the occupants.
One daughter of the dead woman, Winifred CAMPBELL, aged 13, spent the night at the home of a sister in law and thus avoided being involved in the tragedy. A second son who is in the Merchant Navy, is due home at the weekend.
Constable Thomas BENN was a member of a well known Liverpool family. His father was a member of the Liverpool Force, and his brother, who was deputy chief of the Stretford Fire Brigade was killed during an ait attack on Manchester. Constable BENN was 25, and married. He has been described as a most promising officer of the force, of which he has been a member for 4 years. He was a keen rugby footballer.
Constable Leslie Walter LACEY attached to the motor vehicle patrols, is 27, single, and a native of Colchester. He resides at Larkfield Rd, Liverpool 17.
-------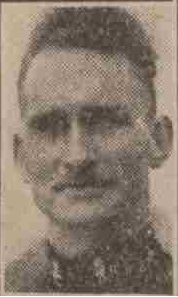 Leonard Brown NEWMAN
Devon and Exeter Gazette, April 2nd 1943
Topsham Athlete
Leonard Brown NEWMAN, son of Mr and Mrs J. NEWMAN of Shapter St, Topsham who died at Liverpool from Pneumonia following a minor operation was buried at Anfield Cemetery near Liverpool after a service at Christ Church, Norris Green, conducted by Rev C. D. WINSTANLEY, M.A. The bearers were members of the Liverpool Police, to which the deceased belonged. The superintendent and many of B. Division were present. Mr NEWMAN was 36 years old and educated at Topsham School, and was employed by his father as a fisherman before joining the Devon Police Force, afterwards moving to Liverpool. He was a member of Exeter Harriers and in 1927 won the cup in the Exeter to Exmouth walk.
The private mourners included Mrs L. NEWMAN, widow, Mr J. NEWMAN, father, Mrs WEST, sister, Misses HORNBY, 2, sisters in law, and Uncle Tom. The mother and brother Lt C. NEWMAN, R.N.V.R. were unable to attend. Amongst the many floral tributes were wreaths from several Liverpool Police Divisions, and A.R.P, wardens.
A sister Emmie was killed in a motor accident on the Exeter Rd, ten years ago. A widow, nee HORNBY, and two children are left to mourn their loss.
The murder of Inspector W. H. ROSS, police-inspector No 317, 1838
The murder of David BAILEY, police-officer, 1839
The murder of Richard FAIRCLOUGH, police-officer No 78, 1844
The murder of Richard SUNDERLAND, police-officer No 732, 1853
The death of Mr M. M. G. DOWLING ex-Liverpool Police, 1853
Murder of police-constable William VAUGHAN, at Birkenhead, 1856
Boat accident on the Mersey, death of Henry MADDEN, River-police officer, No 1, 1868
The death of Police-constable James GOODWIN, at Birkenhead, 1879, from injuries received in 1876
The death of Liverpool Police Detective George BAILEY, No 25, and his son, 1880
The death of Major John James GREIG, C.B, 1882
The manslaughter of Police-constable Hugh M'LAUGHLIN, at Strabane 1891
The death of Police-constable James GRAHAM, No 165, 1887
The death of Mounted Police-constable John YOUNG, No 192 H, 1899
The murder of James GORDON, St Helens, police-constable, 1893
The tragic death of Superintendent Charles FODEN, 1908
Copyright 2012 to date all rights reserved to date