Liverpool Mercury, Feb 8th 1913

The Log Book

It is 43yrs since the Inman liner CITY OF BOSTON [Jan 28th 1870] sailed from Halifax for Liverpool. She had on board 55 cabin, 52 steerage passengers and a crew of 84, making 191 all told. None of these people reached home, nor was the least trace of her ever discovered.

She was commanded by Capt HALCROW, one of the most amiable and popular men, who at that time traded out of this port.

With singular pleasure I give a portrait of him - there was no zinco-engraving in those days, you will bear in mind -- it is the first time a photograph of this famous old commander has been published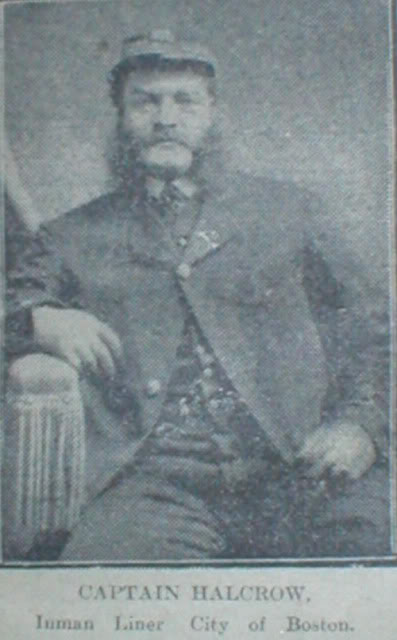 The CITY OF BOSTON represents one of Liverpool's historic shipping disasters, and her name will always form one of the main items in that list of Atlantic liners which so briefly, eloquently and pathetically is headed "never heard of." Suppose she had Marconi wireless on board, then it might have been otherwise.
The CITY OF BOSTON was a woeful shock to this district, indeed to the whole country. She had some officers of the Royal Artillery and other regiments on board, who were returning from Canada.
One of those in an official capacity, who saw her sail from the Mersey and still survives amongst us, thinks, that she, like the TITANIC, struck an iceberg. The ship was one of the best afloat, powerfully engined and built of iron, material far better for running into ice, than the present day more brittle steel. She was a ship rigged and had a large spread of canvas.
It was said that the wife of Capt HALCROW merely considered her husband as "overdue" for 20yrs and she used to leave a light burning every night, so that if he came home suddenly it would be a welcome to him.
A widow in Detroit lost an only son, she subscribed to a Boston paper believing it would have the news first, and for many months read the issues. She set her sons plate at table during this time, saying, "I have not heard from Willie yet but I hope to get news this week."
The late Capt MYLCHREEST who commanded the KING ORRY, was quarter master on the CITY OF BOSTON, he failed to join her and so saved his life.
The late Mr William INMAN the owner, was terribly cut up at the fate of his favourite ship.
There are more, never heard of, Liverpool ships besides, the PRESIDENT due in Liverpool in March 1841, the CITY OF GLASGOW, also of the Inman Line, who sailed from Liverpool March 1st 1854, the LADY MARGARET transport, May 1854, and at the end of March 1856, the PACIFIC of the great Collins Line.
THE SKIPPER
Liverpool Mercury, March 10th 1870
List of passengers and crew on the City of Boston
Allen EBBS wife, child and infant, Mr and Mrs RYLAND, W. M. COCHRANE, M. A. PRAEGER, Mrs. M. COSGROVE, James COSGROVE, James ASHEAD, R. C. LAWTON
From Halifax
Capt. Hamilton, 65th Regt
Mrs. KIDAHL child [13mths]and infant
Lieut H. Horace BAKER. R.E, and wife two children of Frederick and Florence and nurse
Capt. STIRLING, wife infant and nurse
H. C. Morley, deputy assistant superintendent of stores
Mrs. ORANGE and child, Lieut. Orange and female servant
Lieut. KILDAHL and female servant
W. E. POTTER, Capt. FORBES, Mr. LECONTE, Master T. R. ROBINSON, Master Thomas H. ROBINSON, Mr. J. ALLAN, Mr. A. K. DOULL, Mr. E. BILLING, Mr. J. B. YOUNG, Mr. J. BARRON, Mr. Walter BARRON, Mr. P. POWER, Mr. James N. PAINT, Miss F. PAINT, Mr. G. A. KNOX, Mr. Wm. MURRAY, Mr. C. S. SILVER, Mr. E. J. KENNY, Mr. John THOMPSON, Mr. John D. PURDY, Mr. Charles FISHER, Mr. S. R. MONTGOMERY, Mr. Wm. PARKES.
Steerage
From New York
William J. MCCREA, wife and infant
Janet BARNESLEY, two children
John MORAN, William LAPSWORTH, John GIBSON, Benjamin WOODHEAD, James MCMANAUS, Kate MCMANAUS, Michael PARKINSON, Edward PARREY, James MCDONNELL, T. FOX, Thomas BARTON, M. J. HARDING, John J. ASHTON, William MOALESDALE, William BARNSLEY, George FEARNS, James H. HAMSLEY, George JENNINGS, John TAYLOR, Mary TAYLOR, Thomas BOLTON, John T. BAILEY, Joseph DAVIES, Ellen DAVIES, William DAVIES, Thomas DAVIES, W. J. THRESTNER, John DAVIES. Evan THOMAS, Samuel MCCULLS, Michael DEMPSEY, William CARR, Charles GRATTAN, James WHITE, Francis MCCARTHY, L. FLOYER, Thomas FRANCIS, William THOMPSON, A. R. CONK.
From Halifax
James McCain and wife.
Joseph HOLLAND, James GRAVES, Mary A. ERSKINE, Patrick CASSIDY, George ROWLING.
The vessel had a crew of 84 men
Captain J. J. HALCROW, J. MORTIMER, 1st mate, J. CRAVEN 2nd mate, W. H. JAMES 3rd mate, Surgeon Thomas Spring RICE.
Subordinate Officers
William SMITH Purser, Alfred Joseph GARRETT barkeeper, James MCGREGOR chief steward. John SMITH 2nd steward, Charles JOYCE engineers steward
Stewards, Henry STOKES, Robert HAIGH, John SIMEON, Nathan RAMSDEN, Elias PORTEOUS, Creswell PIGOTT, Walter FERGUSON, Thomas DAVIES, James BURBERRY.
Cooks. John FENNAH, Edward HARRISON, Thomas MATHEWS, Thomas TOWTREY Robert CASEY baker, William OLD butcher, William COLLIER carpenter, James FEGAN joiner, William COLLINS boatswain, William FARR boatswain's mate.
Engineers
Alexander URQUHART 1st, Robert Henry HAWKES 2nd, J. Walker TOMLINSON 3rd, Charles OCCLESHEAD 4th , James HAYES 5th.
Firemen
John BEGGS, James MCDONALD, Edward BURNS, William DEWITT, Emmanuel TAYLOR, Louis HAVEREST, Robert FRAME, Patrick MCLEAN, Henry DIVINE, Thomas KINSELLA, John WILSON, Hugh FITZPATRICK, John MOLYNEAUX, Evan THOMAS, Thomas SCROGGIE, Martin LAWLESS, Joseph BENNETT, Joseph KIRKHAM, Stephen GLENNA, Michael GAVIN, George YOUNG.
ABS
Charles STROUD, Peter MARTIN, John GRIFFITHS, Isaac FRANCOMBE, Thomas MCKEE, Emmanuel SILVER, Edward CONDY, Thomas BARKER, Thomas QUILAN, Thomas KELLY, Peter ABRAHAMS, Patrick FLYNN, Angus MCMILLAN, James COFFEY, Martin GLENNING, William MCMACE, James FEGAN, Thomas MASON, Samuel HAWKES, Michael GARRETY, Edmund ALLEN, Patrick RICE, Henry KELLY, John BROWN, John JENKINS.
OS
George ADAMS, Joseph REGAN, Walter LITTLEJOHN, George JACK.
Capt BULMER of the HELENE MARION arrived at Spithead in distress from New York to Antwerp. She left New York the same day as the CITY OF BOSTON and on the night of the 19th January she met with a hurricane, from SE to SW, which, while hove to, took away the foremast and jibbon, new sails were taken completely out of their gaskets and blown away. Capt BULMER believes that the CITY OF BOSTON must have been in the same hurricane.
Message in a bottle
The CITY OF BOSTON
Receiver of Wreck-office, Custom House, Liverpool, May 6th,
A paper was this day picked up at Waterloo, in a stone bottle, purporting to relate to the City of Boston, as follows;-
S.S. City of Boston, Feb 4th, 1870.
The City of Boston is fast settling. We have lost 4 men overboard, 3 have died. We are. in great danger of our preservation. The ship is on fire, and hurrying all the passengers to the bows. We have had to come on under canvas. Our propeller is broken, and we are now at the entire mercy of the waves. God help us, I ham hon my bare feet hand ave been all the weak.
Signed .Hough
J. Hon.
W. ECCLESTON.
Whoever finds this bottle will do a great kindness in forwarding It to .W. Inman, Water St, Liverpool, England. We have . . . 4 vessels, but . . . Id nor . . . Then . . . us.
This was enclosed in another paper which was written :-
City of Boston is sinking, W. Inman, WATER St, Liverpool, England.
I am, Sir, your obedient servant,
A. W. COULSON, Assistant-Receiver of Wreck.
We are informed the names signed do not appear on the articles of agreement with the crew. If, therefore, the paper is not a hoax it must be signed by passengers.
Copyright 2002 / To date