Carnival and Prize Jazz bands flourished in the 1930's in the Liverpool and St Helens area,

Some names

WINDLE

Formed at Windle Labour Club in 1929, disbanded 1931, a member James KENT [formed the Phoenix]

L M S Masked Jazz band,

leader Mr E. H. Flanagan, taken over by Alf LEA 1933, colours red, black and yellow, those of the London, Midland and Scottish Railway Co.

Royal Crown

PARR

Billy Bartons, Blue Birds 1932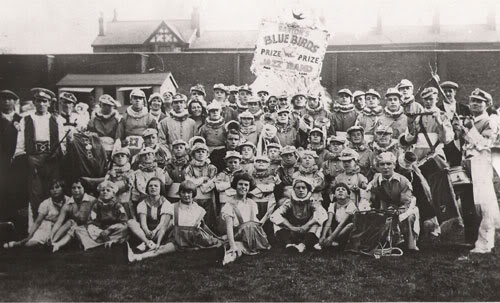 Blue Birds Prize Jazz Band, 1933,

led by Mr Albert PHILLIPS , whose family were prominent as members, Sidney and Harold PHILLIPS and Lilly Burke who fronted the band doing acrobatic dancing. They were the first band to win 1st prize and Silver cup at the LMS Rose Queen contest, the money raised went to help crippled children

A C, Jazz Band,

costumes, black, orange and white, paid for by Alfred CRITCHLEY, local Fishmonger, they advertised for him by carrying a banner, large fish on one side, on the other, "If it swims, Alf's got it".

West End

Prescot and District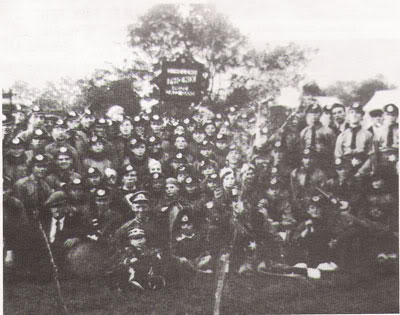 Phoenix
formed by James KENT [from Windle]and Ernie HENDERSON, they were given instruments belonging to the deceased son of a Publican in Canal St, the band took the name of the public house, The Phoenix. Uniforms, black trousers and gold shirts with ruffles, sashes and red berets. They practised in a shed, but as the band grew used rooms in Kirkland St.[later the Harmoney Kings Runcorn] run by the Kent family
WIDNES
Manchester Ship Canal, Prize Jazz Band, formed at Runcorn of Ship Canal Co employees
Dukesfield
Formed at Runcorn when the Manchester Ship Canal band broke up, they would use fireworks, and release a flock of racing pigeons.
Cresent, formed at Widnes
Woodend, formed at Widnes
Dinkies
Star Novelty Prize Jazz Band
leader Billy Foster, James Tobin Deputy, Jack Whitefield secretary, practised at the United Alkali buildings, formed February 1931, most of the original members unemployed Widnes men
Liverpool and Bootle
Bootle Imperial Masked Band,
formed June 1933.
Eureka silver Masqued band,
formed Bootle, June 1933, colours, silver and mauve with gold trimmings
Derby
Harlequin
Majestic
St Georges
Dixie Blues
Rising Sun Jazz band,
from Everton, a large rising sun depicted on the back of each members blouse, they made great contributions to carnivals and fetes.
Lagunna Revellers,
Bootle band, formed mid 1930,s , they trained at the Chestnut Grove Dance Hall in Bootle, costumes reminiscent of the Mexican gaucho, with bells stitched to the wide bottom trousers, their signature tune, "Lily of Laguna"
Jubilee Jazz band,
formed 1935 by Mr HARTLEY
RAILWAY EMPLOYEES CARNIVAL
Belle Vue, Manchester
Sat Sept 30th 1933
Bands taking part.
1, Colenso Star, Brymbo, Wrexham
2, Perfex, St Helens
3, Whalley Rd, Northwich
4, A. C. , St Helens
5, Summerhill, Wrexham
6, Warrington Rd, Northwich
7, Pentre Broughton, Wrexham
8, Star Novelty, Widnes
9, Rainbow, Chester
10, Imperial Blues, Wrexham
11, Phoenix, St Helens
12, Dinkie, Oldham
13, Newton Social Club, Hyde
14, Gorse Hill, Stretford
15, New York Swells, Dukinfield
16, Jimmy Jossers, Dukinfield
17, Empress, Collyhurst
18, Lone Star, Earlestown
19, LMS Masked, St Helens
20, Billy Barton's Bluebirds, St Helens.
21, Pals, Collyhurst
22, Dixie Blues, Liverpool
23, Broadway Swells, Gorton
24, Rising Sun, Everton, Liverpool
25, Heyside Premier, Oldham
26, Liverpool 1st, Liverpool
---
Copyright 2002 - To date