Liverpool Echo 12th May 1917

Woolton murder

Police are anxious to trace the whereabouts of Ernest Leopold NAPIER any information will be thankfully received by Inspector W. ADDIS, of Old Swan Division, who has charge of the investigation. The man is described as from 27 to 30 years of age, clean shaven, 5ft 10 ins in height, of thin build, with sandy hair and thin face. He is a plumber by trade and last autumn joined the Royal Garrison Artillery, but has not been abroad yet. He was in khaki while at home on leave. Mrs NAPIER is spoken of as having been a hard working respectable woman, there are three children.

Liverpool Daily Post 14th May 1917

Woolton Murder

Dramatic development

Husband also found dead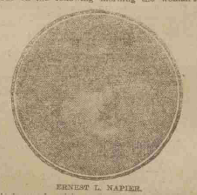 Ernest Leopold NAPIER
A sensational development of the Woolton tragedy occurred on Saturday, when it was learnt that the husband of the woman who was found strangled in a field on the previous day had been found dead at Bristol. The woman had been identified as Miriam Annie NAPIER wife of Ernest Leopold NAPIER a soldier, and she lived with her parents in Derby Terrace, Huyton. The husband had been at home on leave for a week from one of the training camps, and they left home together about 8pm on Thursday with the intention of going for a walk. They were then on quite friendly terms, and had been so since the husband had arrived home. What happened on the walk is not known, but on the following morning the body of the woman was found by a ploughman in a field at Holt Hall Farm, Gateacre, in the occupation of Mr SCOTSON. The ploughman at once saw that something was wrong, and he informed the farmer, who sent for the police. The body was removed to the Princes Dock Mortuary, Liverpool to await examination.
The police found that the woman had been strangled by means of a piece of strong twine which had been around her neck and pulled tightly. There was a handkerchief stuffed in her mouth, evidently to prevent her from raising an alarm. A remarkable feature of the affair is that there were no signs of a struggle, from a careful examination of the locality. The theory of the police is that the woman was attacked suddenly and overpowered before she could offer any resistance. Her clothing was not disarranged in any way, and even her hair was just as she had put it up before leaving home. The first duty of the police after attending to the body was to find the husband, whose whereabouts were unknown. They were most anxious to find him fearing that some ill might have befallen him. Then came news that the soldier NAPIER was found dead in a public convenience at Bristol on Saturday afternoon. In his possession he had a letter addressed to Mr BLENCOW his father in law, and also one to his wife, in which he threatened suicide.
Mrs NAPIER was 25 years old, married six years ago and had three children the eldest five and the youngest three months old. She lived with her father and mother, Mr and Mrs James BLENCOW, at 1 Derby Terrace near Huyton Church. Her husband was 27 years old and was in business prior to joining the army.
When the two went out for a walk Mrs NAPIER said she would be back by 10 pm, but neither husband or wife returned. The husband was due to return south, where he was training by 10am on Friday.
Liverpool Echo 16th May 1917
Inquest on Mrs NAPIER adjourned
An inquest on Mrs Miriam Annie NAPIER, found murdered in a field at Woolton on Friday was opened by Mr INGLIS, City Coroner, today. The deceased aged 27, had resided with her father at Derby Terrace, Huyton.
She was the wife of Ernest Leopold NAPIER a soldier, found dead in a lavatory at Bristol on Saturday, in respect of whose death a verdict of "Suicide whilst of unsound mind" has been returned.
Evidence of identification was given by the father of the woman, a signalman in the employ of the London and North Western Railway Co, who said he last saw his daughter alive on Thursday.
The inquiry was adjourned until the 31st inst.
At the inquest at Bristol on the man it was stated he was found dead from poison. On the body was found a letter stating :-
"Sorry for what I have done. I loved my wife and cannot help taking this step. It is no good saying more, I am about to take my life."
Liverpool Echo 31st May 1917
Double tragedy
Jealousy, crime and suicide.
The Woolton Drama
Threat that had been laughed at.
Verdict
Cord tightly around the neck of the woman
A dramatic story was told when the Liverpool City Coroner resumed the inquest today on Miriam Annie NAPIER aged 26, wife of Ernest L NAPIER aged 29 a soldier.
She had latterly lived with her father James BLINCOW, at Derby Terrace, Huyton, on the morning of May 11th, she was found dead apparently through strangulation in a field at Woolton. On the following morning the husband was found dead in a public lavatory at Bristol from poisoning. On his body was a letter as stated.
"Sorry for what I have done. I loved my wife and cannot help taking this step. It is no good saying more, I am about to take my life."
At an inquest on his body a verdict of "Suicide whilst of unsound mind" was returned.
Allegations said to be false
Mrs Mary Jane BLINCOW, mother of the deceased, said NAPIER and her daughter were married at Huyton in June 1911. At first they lived at the house of the witness and then they went to live at the house of his parents. One child died about twelve months ago and there were three children living. Some fifteen months ago the woman left him because he had not given her sufficient money, he was always more or less in drink.
Shortly after the deceased came to the home of the witness, the husband came. He confessed he had treated his wife badly, took the blame on himself and asked for forgiveness. Last August he joined the R.G.A, and the deceased received the separation allowance. They corresponded and when he was on leave he took his wife for walks, and they were quite amiable together. On May 10th they went for a walk, the deceased saying they would be a couple of hours, and they went towards Huyton. Witness waited up until late at night but they did not return, and eventually she heard what had happened. They had no quarrel that day.
Questioned by the coroner, the mother said the man was a curious sort of person and very jealous. He had an idea that if he was killed his wife would get something from the country, and seemed rather to object to that. Her daughter did the best she could for him, she was quite satisfied she would never take her own life. Witness had heard that the husband left a letter in which he made certain allegations against his wife, but these were absolutely false
A jealous man
The father of the deceased, recalled, said that the husband of his daughter, in addition to being jealous, used to drink. After joining the army he seemed to change towards his wife "he was a perfect gentleman". Any question about the honour of his daughter, said the witness was absolutely false.
A brother of the man NAPIER said the latter did not live happily with his wife, there were faults on both sides. About twelve months ago last Christmas witness knew that his brother was keeping company with the wife of another man. That came to the knowledge of Mrs NAPIER and her parents, and they all naturally objected, there was a separation. The deceased used to drink and was jealous. After separating from his wife he told her he would behave better if she went back to him, but her parents would not let her. The man and his wife had been unfaithful, and that he was not the father of a child that was born to her.
He said he, "would do her in" if he were sent on foreign service, rather than allow her to live with her parents.
"I told him not to be a fool," added the witness. "I did not think he meant anything by it. I told his wife what he had said, and she only laughed at it"
Continuing his evidence the brother said the deceased was found dead in Bristol, he had poisoned himself with carbolic.
A post mortem showed that he was in the first stages of pneumonia. Witness said he had a sister in the asylum. His brother was hasty and bad tempered, but witness never felt he would go off his head.
A ploughman spoke to finding the body in a field at Woolton.
A police sergeant who was called to the body said the woman was lying on her back, fully dressed, there was a cord tied tightly round her neck and in her mouth a khaki handkerchief had been stuffed. Detective Inspector ADDIS described the scene of the tragedy. He found the body lying near a telegraph pole, there being a cord tied tightly around the neck knotted in two places. A khaki handkerchief found stuffed in the mouth, required some force to removed it, there were no signs of a struggle.
Witness noticed a mark on the far side of the telegraph pole, and he came to the conclusion that the man had strangled her with the piece of cord, produced, round the telegraph pole, and had afterwards removed her to where the body was lying. The detective added that he was satisfied there was no truth in the allegations the man had made.
Dr Ernest GLYNN, said that if, as the post mortem on the man showed, he was in the first stages of pneumonia, he might be subject to delusions.
The Coroner addressed the jury and after they had considered their verdict he called Mr BLINCOW into the witness box and said, "The jury have found that your daughter lost her life by the hand of her husband, and that he was not in his right mind at the time"
The jury, he further added, were satisfied that there was no foundation at all for any charge made against the wife and they wished to express their sympathy with Mr and Mrs BLINCOW and their appreciation of the manner in which they had given their evidence.
Miriam Annie NAPIER was interred at Huyton Cemetery on the 17th May 1917
Gunner E. L. NAPIER was interred Greenbank Cemetery, Bristol, on the 12th May 1817.
MAIN PAGE
© 2015 All Rights Reserved