Mary Hagan murder 1940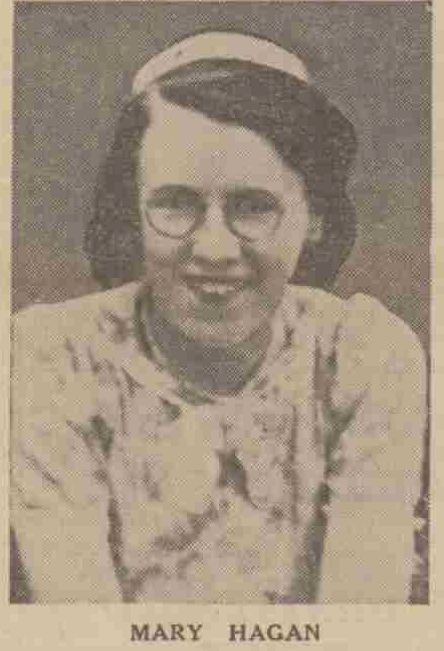 Evening Express November 4th, 1940
Girl dead in blockhouse
All night search by police
Detectives of Lancashire County Police investigating the murder of a 15 year old Waterloo schoolgirl Mary HAGAN, whose body was found in a blockhouse near her home late on Saturday night continued their inquiries throughout the night.
They are seeking to interview a soldier who was stated to have been seen near the blockhouse. He is said to have an East Lancashire accent.
The girl who lived with her parents Mr and Mrs James HAGAN in Brookside Ave, Waterloo, was found with a bruise over her left eye and blood on her left cheek. Here clothing had been disarranged and it was established she had been strangled.
A woman neighbour had reported to police that on Saturday night a soldier spoke to her close to the blockhouse and asked if he could go to her house for a wash. He said he had been in a fight and wanted to clean up before returning to barracks. The woman did not see his face, but states he had an East Lancashire accent. There was a cut on his face.
Detectives have spent many hours visiting barracks seeking to interview the soldier.
Discovery of the girl's body followed a five hour search by neighbours, police officers, air-raid wardens and members of the home guard. Two men, one a friend of the family and an air-raid warden, found the girl lying at the entrance to an unlighted blockhouse not a minute walk from her home.
Chief Superintendent GREGSON head of C.I.D, and Detective-inspector FLOYD of Seaforth took charge of the investigations as soon as the crime was discovered. Dr FIRTH head of the forensic science laboratory at Preston and Superintendent ASHCROFT were called to the scene. A post-mortem examination was carried out by Dr WEBSTER Home Office Pathologist.
The police appealed for assistance in regard to the girl's movements. She was described as being "rather tall, and well, built for her age and wore a rusty shade of brown coat with fur-trimmed collar and brown shoes and she was hatless."
Girl's visit to the shops
Supt GREGSON said it had been ascertained that the girl left home about 7pm to buy an evening paper and some cigarette papers. She had been traced as visiting two newsagent's shops in Rawson St, Cambridge Rd and Sandy Rd, which is within 200yds of her home. The newspaper she had bought was found close to her body. She had the cigarette papers in her possession.
"We are anxious to find out her movements 7pm and 7.30pm on Sunday night."
On her way home from the shops the girl would have had to cross over a railway bridge, before reaching the blockhouse. It is usually a deserted spot
Convent pupil
Described by neighbours as a quiet home-loving girl, Mary HAGAN was one of the most popular pupils at Seafield Convent, Crosby, to which she won a scholarship five years ago.
Mr HAGAN is a timekeeper at a factory. There is another child John aged 11. Mrs HAGAN said she did not see Mary after she left on the errand, saying she would be back in a few minutes.
After half an hour had elapsed Mr HAGAN called at several friend's houses to see if Mary had visited them. He could find no trace of her and it was feared she had lost her way in the dark. A search party was organised and the police were informed.
Mr R. BROWN of Brookvale said he and Mr S. WILLIAMS an air-raid warden looked in the blockhouse
and saw a dark object which they took at first to be a sack. Closer investigation revealed the girl.
An inquest was opened this afternoon at Waterloo Town Hall.
Liverpool Daily Post, November 30th, 1940
Girl's fate in block house.
Murder charge in Liverpool
Following police investigation of the death of a Waterloo girl, whose body was found in a blockhouse on Saturday, November 2nd, a soldier who has already been charged with another offence was brought before the magistrates yesterday on the capital charge.
The accused is Samuel MORGAN, aged 27, and the new charge brought against him at the Liverpool Magistrate's Court. Islington, yesterday, was that of murdering, Mary HAGAN, aged 15, of 15 Brookside Ave, Waterloo. He had been remanded until yesterday on the earlier charge of assaulting Anne McVITTE, on the canal bank at Ford on October 4th, and robbing her of her handbag and purse, £1-17s-6d in cash, her identity card, mackintosh, bicycle and bag valued at 7s-6d.
Mr H. LIVERMORE appeared on behalf of the accused, who, entered the dock in the battle dress of a soldier, the Chief Constable of Lancashire Capt A. F. HORDERN, was in court.
Held by London Police
Supt G. W. JACKSON, said that at 6.45 pm on Saturday the November 2nd, Mary HAGAN, aged 15, a secondary school pupil, left her home to make a purchase from a shop, and at 11.30 pm on that day her body was found in a blockhouse which had been constructed on a railway bridge close by. On Wednesday November 13th, the prisoner was detained by the Metropolitan Police at Streatham, and on November 14th, he was seen by Detective-inspector FLOYD and brought to Seaforth Police Station where he was detained. Further inquiries were made resulting in the prisoner being charged with the offence. Supt JACKSON communicated with the Director of Public Prosecutions, he asked for evidence of arrest and a remand until December 3rd.
Evidence of arrest
Detective-inspector R. C. FLOYD giving evidence of arrest, said that on the 14th of November he saw the accused at Streatham Police Station, and informed him he was taking him back to Seaforth Police Station, charged with being suspected of being a soldier wanted by the police there on a charge of assault and robbery. Prisoner replied saying he did not know anything about it.
Witness conveyed him to Seaforth where further inquiries and investigations were made as a result of which on Sunday the 17th of November, witness charged him with the murder of Mary HAGAN.
Accused replied by saying he did not want to say anything more than he had to.
Mr LIVERMORE hoped by the remand date that the prosecution be in a position to proceed or otherwise with the charges.
Supt JACKSON said that would depend on the Public Prosecutor. MORGAN was remanded until December 3rd.
Evening Express, Dec 11th, 1940
Important link in girl murder charge
Police tell of soldier's bandage
A 27yr old guardsman, Samuel MORGAN of Berkley Drive, Seaforth appeared at a special sitting of the Liverpool County Magistrates Court, Islington, today, accused of having murdered Mary HAGAN, aged 15, schoolgirl of Brookside Ave, Waterloo, who was found dead in a blockhouse near her home shortly after midnight on November 2nd.
MORGAN appeared in dock wearing battledress
MORGAN had also been remanded until today on a charge of assaulting Anne McVITTIE on the canal bank at Ford on October 4th and robbing her of a handbag, purse £1-7s-6d, an identity card, mackintosh, bicycle and bag, total value £7-6s. The proceedings were heard before one magistrate, Mr A. S. BARK. Mr J. R. BISHOP prosecuted for the Director of Public Prosecutions. MORGAN was represented by Mr H. LIVERMORE.
Case for the prosecution
Mr BISHOP said that it was the contention of the prosecution that MORGAN caught the girl and carried her into the blockhouse, violated her, murdered her, then robbed her dead body of 1s-8 and a half pence
Medical evidence showed the girl died from asphyxia due to manual strangulation.
Immediately before her death she had been carnally interfered with. Marks in the region of her mouth showed that efforts had been made to silence her screams.
Mr BISHOP said the MORGAN was a full-time serving soldier, having joined the Irish Guards in 1936. He had lived in Seaforth for many years. About the middle of September he arrived at his parent's home. He said he was staying for a week but when the time for his departure arrived he remained at home until 0ctober 30th. On that date two days before the murder he went to stay with his brother, Thomas Edward MORGAN, of Molyneux Rd, Seaforth. MORGAN stayed that night with his brother and left at 8am the following morning.
Court told of thumb injury
He arrived back again two hours later and his sister-in-law Mrs MORGAN noticed that he had a nasty cut on his thumb, which was bleeding badly. To stop the bleeding MORGAN produced from his pocket a soldier's field dressing which Mrs MORGAN opened. She applied a portion of gauze and bandage to the wound. Only a portion of the gauze was used and MORGAN said she should keep the rest.
"This bandage forms a very important link in the prosecution's case." Said, Mr BISHOP.
Subsequent to that first dressing, he continued, Mrs MORGAN bandaged the thumb on several occasions, using further portions of the dressing.
On November 1st at 7.30am MORGAN told his sister-in-law he was going to Seaforth Barracks. Before he left the house Mrs MORGAN applied another dressing, and on this occasion added some zinc ointment.
MORGAN returned the next day and stayed in the house until 4pm, at that time he left saying he was going to see his brother-in-law to borrow some money.
At 5.40pm the same evening MORGAN was alleged to have been standing by some hoardings close to the bridge upon which a blockhouse is situated.
"The prisoner seems to have made a habit of frequenting this particular spot." Said, Mr BISHOP. "Other witnesses saw him there on October 30th and November 1st. The prosecution allege that the girl Mary HAGAN was murdered in, or just outside the blockhouse at about 7pm on November 2nd.
Went on Errand
The blockhouse was about 300yds away from the girl's home, said Mr BISHOP, On November 2nd Mary HAGAN was home until about 6.45pm, when she went out on an errand. To get to the shops the girl would have to walk over the bridge and pass the blockhouse near to where MORGAN had been seen, about 5.40pm.
When the girl left home she had a 2s piece and 1d, the purchases she intended making would come to three and a half pence,
About 7pm the girl called at a shop in Sandy Rd, she did not make a purchase. A few minutes later a girl answering her description called at a shop in Rawson Rd, where she spent two pence on cigarette papers. At another shop in the same road she spent I and half pence on an evening paper/
"It is believed that those who saw the girl at this shop were the last to see her alive" said Mr BISHOP." "On her way home she would have had to cross over the bridge. It is the case for the prosecution that as she walked over the bridge MORGAN caught hold of her, carried her into the blockhouse, violated her, murdered her, then robbed her of is ten and a half pence leaving her with one penny, which was found in her pockets.
Medical examination showed that when the body was found at 11,30pm, the girl had been dead about four hours. Underneath her body was found a copy of an evening paper and two packets of cigarette papers and one penny in her pocket.
MORGAN met a relative at a Seaforth public house about 7.50pm on November 2nd, the public house was about 18 minutes away from the scene of the alleged murder. When he arrived at the public house it was noticed his thumb was bleeding badly. There was blood on his cap and no bandage on his thumb. He appeared to be distressed and he seemed to be out of breath.
Close to the girl's body was a blood-stained bandage, of which the outer portion was khaki material, the inner portion having coloured gauze. The bandage had been subjected to the closest scrutiny and was found to be part of a soldier's field dressing. It was exactly similar to that piece of gauze which was left by MORGAN with his sister-in-law. Furthermore, on part of the bandage there was evidence of zinc compound. The prosecution submitted it came off MORGAN's thumb at the time he committed the murder.
MORGAN was alleged to have been seen in the Warrington district on November 4th, and returned to Seaforth between 5 and 6 pm. The next day he was supplied with some money and was not seen in the district again. He was arrested in London on November 13th, where he had a violent struggle with a policeman. He broke away but fell into a bomb crater in the road and was then apprehended.
Detective Inspector FLOYD went to London and brought MORGAN back to Seaforth. At Seaforth Police Station MORGAN was asked if he would like to account for his movements on November 2nd, and he made a statement in which he gave his movements between four in the afternoon and 7.45 pm. He said he had spent his time in a journey to Liverpool and back by bus.
On November 16th, MORGAN expressed a wish to speak to Detective-Inspector FLOYD, saying, "I am very worried and I would like to tell you about this job."
At that time, said Mr BISHOP, no mention of the murder had been made to MORGAN. He then made a statement which would be produced later.
Father's evidence in murder charge
The dead girl's father, James Joseph HAGAN, shipping clerk giving evidence today in the blockhouse murder charge said he was at home all afternoon while Mary went to the cinema. At 6.45 pm she left home to bring him an evening paper and some cigarette papers. It was not dark and she should have been absent 10 or 12 minutes. At 7.10 the question that she was overdue was raised at home.
At 7.30pm thinking she might be at a neighbour's house he went to the bridge to meet her but did not see her. He made inquiries at various shops and later went for his wife and they continued their inquiries. A search party was organised among neighbours and the girl's body was found shortly before midnight.
Cross-examined the father denied it was dark at 6.45 though black-out time might have been 6.8pm.
Mother distressed
The mother Mary Elizabeth HAGAN appeared distressed and was given a seat in the box. She identified her daughter's garments and also said it was not dark when she left home.
Richard BROWN, marine engineer of Brook-vale, Waterloo, said he had known Mary HAGAN about 12 months. About 11pm on the night of the murder he made a search of the district for the girl with a Mr Sydney WILLIAMS They eventually searched the blockhouse and WILLIAMS shone his torch inside. Witness saw the body of a girl lying on her back inside the blockhouse. "I rendered first aid with a view to respiration but it was of no avail," added the witness.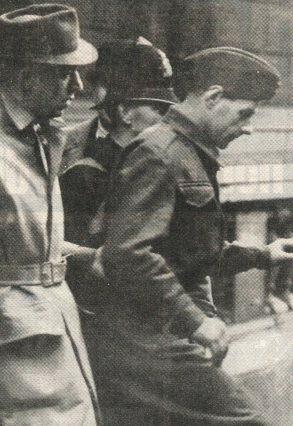 MORGAN entering court
Liverpool Daily Post Dec 19th 1940
"I got hold of girl"
Murder charge evidence
A statement alleged to have been written by the prisoner MORGAN was put into court last evening at the Liverpool Sessions House, when the Waterloo alleged murder case reached its fifth day of hearing. There was a lively passage between the defending solicitor and the magistrate.
Samuel MORGAN, 28, Irish Guardsman of 15 Berkeley Dr, Seaforth, was accused of murdering 15 yr old schoolgirl Mary Hagan of 15 Brookside Ave, Waterloo. It was alleged he violated and strangled her in a blockhouse near a railway bridge, when she was on her way home from an errand on the evening of November 2nd and that a bandage was found near her body came from his thumb.
Mr A. S. BARK sat as examining magistrate, Mr J. R. BISHOP prosecuted and Mr Harry LIVERMORE defended. Among those in court was the Chief Constable of Lancashire Captain A. F. HORDERN.
Detective Inspector Robert Cecil FLOYD said that on November 14th, he saw MORGAN detained at Streatham London and brought him to Seaforth. Witness handed certain articles of clothing belonging to MORGAN to Dr FIRTH. On November 15th he saw MORGAN at the detective office and asked him if he cared to account for his movements on or about November 2nd. He replied, "Yes I will, as far as I can remember," and made and signed a statement which read:
"On September 22nd I left the battalion without authority and came to my home. On Wednesday, the 13th, the police came to my house for me but I escaped by the back door. I slept that night at my brother's house in Molyneux Rd, Waterloo. I left the house about 9 the following morning, and while passing along a footpath I cut my right thumb on the barbed wire and cut the flesh. That is the injury I had when arrested. I turned back to my brother's house and his wife dressed it with a finger bandage she took from a drawer in the kitchen. She applied a smear of zinc or boracic ointment. I went to Aintree and saw my brother during his lunch hour."
MORGAN's statement it was alleged to the effect that he left his brother's house in Waterloo between 3.30 and 3.45. He boarded a bus for Liverpool and walked around looking in shops. About 6.30pm at the corner of London Road he was spoken to by a fellow Guardsman who said, "Hello what are you doing here?" MORGAN replied. "I am absent, you have not seen me Liverpool." The Guardsman replied, "O K" He did not know the Guardsman.
The statement continued: "At 7.20pm I boarded a bus and returned to Seaforth" MORGAN said he went to a hotel where he saw his brother Frank and brother-in-law at the bar. He stayed 10 minutes then went home to Berkeley Dr and left at 8.30pm to go to Warrington. He went via Queens Dr and Prescot and got lifts on the way. He walked around all night and spent part of the night in a café at Sankey.. On the following day he went to Liverpool Farm School at Newton-le-Willows and slept at Powys St, Warrington. He had his thumb dressed at Liverpool Farm School. On Monday he took the bus from Warrington to Sankey and walked back to Liverpool. He stayed that night at his brother's house in Waterloo, and on Tuesday went to London by train.
"Murder never mentioned"
Inspector FLOYD then came to the statement alleged to have been made by MORGAN on the evening of Saturday November 16th.
Mr LIVERMORE objected to this being put in, arguing that it had been obtained improperly and was therefore inadmissible. It must first, he submitted be shown affirmatively that a confession was free and voluntary, and not preceded by any inducement held out by any person in authority.
Inspector FLOYD said that at the time MORGAN asked to make the statement the murder of the girl had never been mentioned at all to him and there was no such charge against him. In London he had a few minutes conversation with MORGAN, not an hour as alleged by Mr LIVERMORE. He never asked MORGAN whether he knew anything about the murder of Mary HAGAN, and he never told him that if he made a statement it would be better for him or that it would save MORGAN a lot of trouble and save his family from having to go into the box and give evidence against him. They did not have any conversation at all about the murder before the statement was written out by MORGAN. He gave MORGAN a cigarette. He did not produce a photograph of Mary HAGAN, he never possessed one. "It was nonsense to say that I kept on reiterating that I knew he had murdered Mary HAGAN."
Mr LIVERMORE said it was very remarkable that at a time when the murder was said to have never been mentioned to MORGAN, and when the police were waiting for results from the investigations of Dr FIRTH, upon which very much depended as to whether they would be able to make a charge. MORGAN was suddenly smitten with this dreadful remorse.
Chairman's question
The Chairman [to Inspector FLOYD] – Did you give any inducement in any shape of form whatsoever that you can humanly imagine to this prisoner to make a confession?-I can only say Sir, that I am on oath and very conscious of it. I am very conscious of the seriousness of the case and the evidence I shall give Sir, is the truth.
Absolutely?-Absolutely.
Mr LIVERMORE protested against the chairman's interjection. "I am in this difficulty." He continued "These are my instructions and I have to put them to the officer. Your Worship has taken this cross-examination out of my hands Assuming that any inducement was made by the police, Your Worship cannot expect an officer to say. "Yes it was" One must look at the surrounding circumstances. If your Worship adopts the attitude that it is simply a waste of time to ask these questions, which are absolutely vital, I decline to proceed further on the point I think it is quite unfair of Your Worship and I take objection to it."
A little later Mr LIVERMORE said; "Apparently your worship has already decided that this statement should go in but I must make my submission to you." He then quoted a judgement by Mr Justice CAVE in the Queen v Thomson in which it was said, "I always suspect these confessions which are supposed to be the offspring of penitence and remorse and which invariably are repudiated by the prisoner at trial. It is remarkable that it is a very rare occurrence for evidence of confession to be given when proof of the prisoner's guilt is otherwise clear and satisfactory."
"Did not intend to hurt the girl."
The Chairman said he was convinced that this statement of MORGAN's was given voluntarily, and without any inducement, and therefore he ruled that it should be submitted.
Mr BISHOP thereupon read the statement and remarked: "The strange thing about this statement is that it is not a confession but a denial of guilt."
It ran as follows in MORGAN's own handwriting :-
"I have been very worried since being arrested and I want to tell what happened. On Saturday evening November 2nd, 1940, I got hold of a girl on Brook Vale Bridge and she fell down. I carried her into the blockhouse and laid her on the floor. She had 1s-6d or 1s-7d in her hand and I took it. I then went to the Royal Hotel Seaforth where I met my brother Frank and brother-in-law Jim SHAW. I did not intend to hurt the girl at all."
At the head of the form on which he wrote his statement was printed; "I understand that I am not obliged to write out any statement unless I wish to do so, and that anything I now write down may be given in evidence. On that understanding I wish to write the following statement."
Inspector FLOYD during a lengthy cross-examination by Mr LIVERMORE, as to both statements, said they were entirely voluntary.
The hearing was adjourned until to-day.
Evening Express Dec 19th 1940
Additional information than above
Identification parade
Supt William GREEN, Lancashire Constabulary, said on November 17th, he conducted an identification parade at Seaforth Barracks. 8 other men in battle-dress were paraded with the accused.
Three witnesses brought in separately picked out MORGAN without hesitation. 11 other people attending the parade failed to pick out the accused.
Mr LIVERMORE submitting to the magistrate Mr A. S. BARK that the prosecution had not made out a case, said an important feature of the case was the time factor.
One witness said Mary HAGAN was at his shop at 7.15 pm. Dr BRADLEY police surgeon put the time of death 4 or 5 hrs before he saw the body between 7.30 and 8.30.
Defence points
On the un-contradicted evidence of the prosecution the girl was clearly alive between 7pm and 7.15pm, on the night of the murder.
Evidence by MORGAN's brother and brother-in-law was that accused arrived at Seaforth hotel about 7.35pm. Supt GREEN said it took 18 minutes to walk from the blockhouse to the hotel, but in the blackout it would take longer. To reach the hotel when he did MORGAN would have to leave the blockhouse at 7.15 at which time the girl was seen alive. A further point on the time factor, the girl was ravaged before her death.
Evidence had also been given that MORGAN's appearance was normal except that he breathed heavily. There was no blood on his clothing. If MORGAN would have been guilty of murder, one would expect to see something peculiar or signs of blood.
There was no evidence of blood stains at all.
The thumb bandage formed an entirely vital link in the prosecution's chain of evidence, but there was a hiatus in the chain and the expert evidence fell to the ground.
Mr LIVERMORE added that one witness has said that when accused arrived at the hotel he had on his bandage, whereas the prosecution's case was that he had the bandage off.
Prisoner's sister-in-law said all the bandage was used. Where did the bandage come from which the prisoner was alleged to have used at the hotel?.
Dealing with the alleged confession Mr LIVERMORE said Inspector FLOYD and Detective Sergeant RAMSDEN, stated that they held out no inducement to the accused to make the statement.
As long ago as 1893 Mr Justice CAVE pointed out that it was nearly always in cases that the prisoner's guilt was not clear that he was seized with sudden remorse and penitence and to have made a confession. This applied to the present case for at the time MORGAN was alleged to have made the statement, quite voluntarily, the prosecution was not in a position to charge MORGAN with the murder. The time of the alleged confession was therefore significant.
After committal the magistrate granted MORGAN a certificate for legal aid. Another charge against MORGAN one of assaulting and robbing Anne McVITIE on October 4th and stealing from her leather purse £1-7s-6d in cash, a mackintosh and bicycle, was adjourned until January 2nd.
Liverpool Daily Post Feb 11th 1941
Guardsman on trial
Sequel to girl's death
The trial opened at Liverpool Assizes yesterday, before Mr Justice STABLE of Samuel MORGAN, an Irish Guardsman, aged 28, of Berkeley Dr, Seaforth, accused of the murder on November 2nd of Mary Hagan, a 15 year old schoolgirl who lived with her parents at 15 Brookside Ave, Waterloo.
The body of the girl was found in a blockhouse near her home. MORGAN, who appeared in the dock in battle dress, pleaded not guilty. He was defended by Mr Edward WOOLL and Mr E. E. EDWARDS.
Mr G. Justin LYNSKEY, K.C, who with Mr Glynn BLACKLEDGE, appeared for the prosecution, said it was alleged that Mary HAGAN was either enticed or dragged into a military blockhouse at Waterloo and there violated and then strangled. At 6.45pm on November 2nd, her father sent her for an evening paper and some cigarette papers. To reach the shops she would have had to cross a bridge and pass the blockhouse. She arrived at a shop in Sandy Rd, Seaforth at 6.50pm, but as there was no papers available there she had to call at two other shops in Rawson Rd to complete her errand. She left the last shop shortly after 7pm. That was the last time she was seen alive by anybody the prosecution could call
Search and Discovery
When the girl had not returned home by 7.30pm, her parents became anxious and made inquiries. A search was instituted and shortly after 11pm, the body of the girl was found in the blockhouse. Dr BRADLEY who arrived shortly after midnight, formed the opinion that she had been dead between 4 and 5hrs, that was between 7 and 8pm. The cause of death he found was strangulation. Her face and neck were bruised and she had been criminally attacked. Dr WEBSTER the Home Office pathologist performed an autopsy and found that the cause of death was strangulation after and attempt he thought to muffle screams.
A bandage which had been used upon a thumb and finger was found in the blockhouse and Mr LYNSKEY said it might have an important hearing on the case. It had been made from a field dressing, the type supplied to soldiers. From October 30th MORGAN had stayed with his brother and his sister-in-law Mrs Mildred MORGAN at Seaforth. It was alleged that the accused had been seen several times at the bridge where the blockhouse was. On Thursday October 31st, he told Mrs Mildred MORGAN he had injured his thumb on barbed wire. There was a deep cut which was bleeding freely. Accused gave her some field dressing, and she cut a piece of gauze and applied it to the wound. She subsequently dressed the wound in the same way again, giving the remainder of the dressing back to him.. On Friday November 1st, she again dressed the wound, but on this occasion she added some zinc ointment. She handed the remainder back to the accused but he told her to keep it. It remained in her possession.
Seen near the blockhouse
On Saturday November 2nd she tightened the bandage before the accused left the house between 4 and 4-30. MORGAN was seen reclining against some railings near the blockhouse between 5-35 and 5-45pm and what happened between that time and 7-37 to 7-45 p.m. in regard to the accused the prosecution could not tell in evidence. They asked the Jury to draw the inference that MORGAN was at the blockhouse between 7 and 7-30pm, and that whilst he was there the offence was committed.
There was evidence that between 7-35 and 7-45pm, possibly a little later, MORGAN arrived at the Royal Hotel, Crosby Rd, South, Seaforth, where he had been seen by his brother Francis MORGAN and his brother-in-law, James SHAW. According to his brother he was then breathing heavily as if he had been running or walking quickly and his thumb was bleeding.
MORGAN and Mr LYNSKEY then visited the house of his mother, leaving about 10pm. After spending the night at Warrington he arrived back to the house of Mrs Mildred MORGAN, on November 4th, and later that day left for London. On November 14th, MORGAN was found to have overstayed his leave from the Forces and he was detained by the London police. He was brought back to Seaforth where the police were making inquiries into another matter. On November 15th, MORGAN was asked a question relating to November 2nd and he made a statement. He sent for Inspector FLOYD on November 16th and made a second statement.
Mr LYNSKEY asked that the thumb gauze said to have been found in the blockhouse and the gauze that remains in the possession of Mrs Mildred MORGAN had the same characteristics and he invited the jury to say, after hearing the evidence that the thumb gauze was part of the bandage Mrs MORGAN had applied on November 1st and tightened the following day.
Mr James Joseph HAGAN of 15 Brookside Ave, shipping clerk, gave evidence of the girl leaving the house and Mrs HAGAN identified certain clothing. Three other witnesses spoke of the girl calling at three shops on Sandy Rd and Rawson Rd, on the evening of November 2nd . The hearing was adjourned until today.
Liverpool Daily Post Feb 18th 1941
Guardsman guilty
Murder Trial verdict
Sentence of death was passed at Liverpool Assizes last evening on Samuel MORGAN, aged 28, Irish Guardsman of Berkeley Dr, Seaforth, found guilty of murdering Mary HAGAN, aged 15, who lived with her parents at 15 Brookside Ave, Waterloo.
The jury returned a verdict in 55 minutes. When asked if he had anything to say before being sentenced, MORGAN who had pleaded not guilty replied in a firm steady voice, "I still say I am not guilty sir."
When Justice STABLE assumed the black cap and passed sentence MORGAN's mother who was in court with other relatives collapsed and was carried out of court.
MORGAN stood to attention without moving a muscle when the judge passed sentence, warders then took hold of him and led him below.
Counsel for the prosecution were Mr G. Justin LYNSKEY, K.C, and Mr Glynn BLACKLEDGE, for MORGAN, Mr Edward WOOLL and Mr E. E. EDWARDS.
The crucial part.
Summing up after six days the judge said that if the jury was satisfied that someone in the act of committing a felony involving violence against the girl, strangled her, then this was murder, even if the intention behind the act was not to kill.
The crucial part of the case was MORGAN'S statement, in his own hand, if this statement had never been made the evidence would have been insufficient to support the charge. MORGAN said that the words in the statement were not his but those of Inspector FLOYD.
The judge said, assume he was an innocent man detained in a police station for a terrible crime, he knows he is under suspicion and conscious of his own peril and innocence, it is conceivable that a man in these circumstances would have written out a statement that links him up with the girl at the time and place she met her death, unless it was true. Accepting this statement does the discovery of the dirty bandage found in the blockhouse, close to the girl's body confirm and corroborate the linking up of the man with the girl's fate.
Defence Submission
Mr WOOLL in his closing speech had urged the jury to dismiss from their minds anything they had read about the case, the law of this country unfortunately, permitted committal proceedings to be reported and in sensational cases there were reported freely. He paid tribute to the fairness of the prosecution but contended that their case was based on shifting sands of doubt. The jury could not be justified that the bandage in the blockhouse had been left by MORGAN, it might have been left there hours before and have nothing to do with the crime.
While the prosecution in out lining the case said Mr WOOLL, suggested that the girl was violated and strangled in the blockhouse. Inspector FFLOYD had stated that she was probably attacked and stunned outside as it was inconceivable that a strong girl could be induced to go into the blockhouse.
The latter theory opened up a different case consistent with different times. One of the mysteries of the case was the time of the girl's death, the prosecution suggested some time before 7.30pm, but, Dr BRADLEY stated death took place between 7.30 and 8.30pm.
There was abundant evidence that at 7.40pm MORGAN was at the Royal Hotel, a mile away from the scene of the crime, his movements after that time could be checked. The absence of blood stains on MORGAN.s clothes showed with practical certainty that he did not ravish the girl.
Mr WOOLL contended that MORGAN was unduly influenced at the detective office when the alleged statement was made. A blood stained raincoat was found 100yds from the scene of the crime but the prosecution had failed to associate MORGAN with the raincoat. There were so many doubtful elements in the case that MORGAN should be acquitted.
Evidence for the defence included that of Professor W. H. ROBERTS Liverpool City analyst, who had examined the thumb bandage found in the blockhouse and compared it with another piece of bandage, it was impossible for him to say that the two specimens came from the same bandage, similar dressings are supplied to the Forces and the A.R.P, workers and the zinc ointment found on the dressing exhibited was commonly used.
Cross-examined by Mr LYNSKEY the witness said the two pieces of bandage might have been from the same roll, but he could not say with certainty.
Evening Express, April 9th 1941
Guardsman executed
Liverpool Blockhouse Murder
Samuel MORGAN, 28 yr old guardsman was executed at Walton Gaol today for the murder of Mary HAGAN, aged 15, of Brookside Ave, Waterloo.
It was alleged by the prosecution that MORGAN enticed or dragged her into a Home Guard blockhouse near her home on November 2nd, and there violated and strangled her.
MORGAN has appealed but it was dismissed by the Court of Criminal Appeal a fortnight ago and yesterday it was announced that the Attorney-General had declined to grant an application for a fiat to take the appeal to the House of Lords.