Liverpool Mercury, Feb 9th, 1907

Death of Sir David GAMBLE, Bart, K.C.B

We deeply regret to announce the death of Sir David GAMBLE, Bart, K.C.B, who on Sunday attained his 84th birthday. During the night following he passed quietly away at his residence, Windlehurst, St Helens, where he had been lying ill for some weeks.

Towards the end of last year he contracted a chill, but recovered sufficiently to make occasional visits to his office, and hopes were entertained he would recover his normal health in spite of the burden of his years. The death of William GAMBLE his second son, with tragic suddeness three weeks ago, must have had a weakening effect, and although Sir David visited his office as late as last Saturday week, he was evidently far from well.

Complications set in and on Thursday week a serious operation was carried out to relieve the pain he was suffering, but, unfortunately the shock to the system was too great, and Sir David sank quickly and died on the night of his 84th birthday.

His eldest son Alderman Josias Christopher GAMBLE was present at his bedside, as were Mrs BISHOP, the eldest daughter, Mrs Austin CARR and Miss GAMBLE.

The flags of the Town Hall, Gamble Institute and other public buildings were placed at half-mast. Sir David was an ideal citizen with a single eye to the common good. He was born in Dublin on Feb 3rd 1823, the year the salt tax was repealed, which meant so much to the chemical trade in which he was destined to become so successful. He was created Companion of the Bath in 1887, baronet of the United Kingdom in June 189? and a K.C.B, a little over a year ago.

On the 26th Jan 1847 Sir David married Elizabeth HADDOCK daughter of Thomas HADDOCK, Colliery proprietor and there were 11 children. Lady GAMBLE died on the 23rd Oct 1899, aged 73. The eldest son Alderman Josias Christopher GAMBLE is an ex mayor and J.P, and Freeman of the borough of St Helens.

Sir David was elected the first mayor of St Helens on 5th March 1863, a position he filled four times, the inhabitants of the borough to pay tribute to him subscribed £1,035 and presented him with a fine portrait of himself painted by HERKOMER at a cost of 900 guineas. What Sir David did to further the success of the Volunteers is well known.

The crowning act of his career was the building of and presenting to the town of the Gamble Institute, the land and furniture cost £36,000 and was opened by the Earl of Derby on Nov 5th 1896. St Helens was at once in possession of a fine free library and technical school.

Sir David is succeeded in the baronetcy by , Alderman Josias Christopher GAMBLE who was born Jan 7th 1848, and, who on, June 5th 1873 married at Sefton Parish Ch, Isabella SANDERSON youngest daughter of the late George SANDERSON, C.E, of Claughton, Birkenhead, their eldest son David was born May 1st 1876. The new Baronet is J.P for the County of Lancaster and borough of St Helens. He was educated at the Collegiate Institute Liverpool and Kings College London.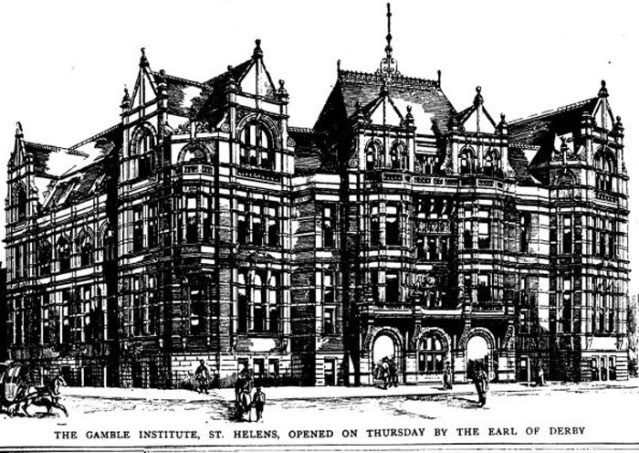 The Graphic, 1896
Funeral of the late Sir David GAMBLE
The love and affection entertained for Sir David GAMBLE, Bart, K.C.B by the people among whom he lived and worked for 60 yrs was fully demonstrated on Thursday at the funeral, when practically the whole of St Helens did honour to the remains of the patriarch as they past through the streets to the last resting place at the cemetery beside the late Lady GAMBLE and their son William GAMBLE.
Business suspended throughout the town, the route from Windlehurst to the Parish Church and afterwards to the cemetery was lined with huge crowds demonstrating their sorrow.
The funeral service at the Parish Church was attended by the Town Council magistrates as well as friends from Liverpool and all parts of the country. The service was conducted by the Bishop of Liverpool, Dr CHAVASSE and the vicar of St Helens Rev Cyril BARDELEY, assisted by Rev J. W. KITCHLEE, vicar of St Marks.
The remains were enclosed in a polished oak coffin bearing the inscription, "Sir David GAMBLE, Bart, K.C.B, died Feb 4th 1907, aged 84yrs."
Mourners were, :-
Sir Christopher GAMBLE Bart, Lady GAMBLE, Miss GAMBLE, Mr and Mrs C. J. BISHOP [Mayor and Mayoress], Mr George GAMBLE, Mr and Mrs David GAMBLE, Colwyn Bay, Rev Arthur GAMBLE, Bradbourne, Derbyshire, Mr Henry GAMBLE, Rainhill, Mr and Mrs A. C. CARR, Broxton, Mr and Mrs M. HAMMILL, Mrs BARDSLEY, Mr and Mrs David GAMBLE Jnr, Messers Hugh NORMAN and Arthur GAMBLE, Miss Dorothy GAMBLE, Mr and Mrs C. G. BISHOP, Miss Rita BISHOP, Miss COLE, Miss Connie and Miss Annie BISHOP, Mr Conrad GAMBLE, Miss Josephine GAMBLE, Mr Victor GAMBLE, Mr C. Lance GAMBLE, Mr WISE, Brandon, Ireland, Mr E. CARR, Miss Betty CARR, Dr MASON, Mr PERRY, Miss Jane SAMPSON, Messers Henry BICKERSTAFF, B. ROBERTSON, P. H. PERRY, T. GILROY, Mr West GAMBLE, Miss F. E. GAMBLE, Liverpool, Sir Edward RUSSELL, Mr A. G. JEANS. J.P, Mr G. B. HADDOCK. M.P, Liverpool, Mr Holbrook GASKELL Jnr, Mr T. BREWIS, Mr John HAMMILL, St Helens Hospital.
Also present were a large number of well known gentlemen in the public life of Lancashire.
COPYRIGHT 2002 / To date