Eliza Lloyd Pullen

Liverpool Echo 10 March 1915

Cressington lady dies from burns

The death is reported of Miss Eliza Lloyd Pullen aged 77, which took place at the residence of Mr and Mrs S. Hill at Cressington today, as the result of burns sustained on Saturday night.

Whilst she was lighting a gas fire the clothes of the deceased lady became ignited. She had the presence of mind to go to the bathroom, and turning both taps on endeavoured to extinguish the flames. Mr and Mrs Hill heard the noise and going to the bathroom found the old lady in flames. They extinguished the fire and sent for Dr Hunter, who found Miss Pullen suffering from severe surface burns and shock from which she succumbed at 4.30 this morning.

Leigh Grassie Sadler

Liverpool Echo 21 December 1915

Garston Dock Worker killed

A dock labourer named Leigh Grassie Sadler, aged 36 of 55 Canterbury St, Garston employed by the London and North Western Railway Company, died last night. He was crushed between the boiler house wall and one of the railway wagons.

Alfred Colin QUINE

Lancashire Daily Post, Dec 23rd 1938

Customs officer drowned

Fell from ladder While leaving ship

A young Customs Officer, who was to have been married in the New Year drowned in the Mersey today when he fell while descending a ladder from the tanker Europe to Customs launch. He was Alfred Colin QUINE, aged 27 of Hampstead Rd, Liverpool, and his fiancee Miss Joan HERRINGTON is the pretty daughter of the Liverpool Customs water guard superintendent. Mr HERRINGTON, her father said that QUINE, a Customs assistant preventive officer was a fine type of man, and one of the most popular and best known men in the service. He was a well known amateur footballer and regarded as one of the best centre halves on Merseyside

The accident happened about 1.30am, a lifebuoy was thrown to Quine and the launch searchlight picked him out, but when the vessel was 30 yds Quine disappeared.

The tanker Europe a Norwegian ship was proceeding up river after the accident when she was involved in a collision with a Mersey Docks and Harbour Board hopper which sank.

William KERFOOT

Lancashire Daily Post, Feb 17th, 1939

William KERFOOT a young Allerton motor cyclist of Darwell Rd, died in Garston Hospital yesterday from injuries received in collision with a motor car in Mather Ave, on Wednesday.

Lancashire Daily Post, Feb 21st, 1939

Killed on the motor cycle of his friend

Allerton crash inquest

A verdict of , Accidental Death, was returned at a Liverpool inquest yesterday on William KERFOOT, aged 21, of 11 Darwall Rd, Allerton, who died following a collision between a motor cycle and a car at the junction of Mather Ave and Heath Rd on Wednesday last.

After the jury gave their verdict the foreman added, that he felt that the cause of the accident was that the driver of the car did not give sufficient warning of his intention to turn, and was also due to the speed of the motor cycle.

Harold Hanson HOLMES of 5 Mostyn Ave, said he let KERFOOT ride the motor cycle on Wednesday night. KERFOOT was a careful and experienced driver. He drove north along Mather Ave and on returning was doing about 35 mph, when he came into collision with a car on the crossing. The car was about to turn into Heath Rd out of Mather Ave.

The Coroner, possibly you know the motor cycle speedometer jammed at 66 mph? Other witnesses also place the speed greater than 35 mph.

HOLMES said the speedometer might have been jerked onwards by the impact. He never saw the car driver give any signal that he was going to turn.

Henry METCALFE, driver of the car, of 128 Stamfordham Drive, Allerton, said he was doing 25 mph, and put out his arm and reduced speed to 5 mph, when 100 yards from the crossing. He kept his arm extended until he was almost on the crossing, and had just started to turn when he heard a terrific noise at the back. When he looked in the mirror he had not seen anything approaching.

The Coroner said in view of the fact that the driver of the motor cycle gave no warning of his intention to overtake the car there was quite sufficient cause for such a collision as this.

John David JONES

Lancashire Daily Post, Feb 25th, 1939

Menlove Avenue Tragedy

View of Jury at city inquest.

A verdict of Accidental Death was returned at the inquest at Liverpool yesterday on John David JONES of Doddridge St, Hall Lane, Liverpool, who was knocked down by a car and fatally injured while crossing Menlove Ave on February 9th.

Evidence was given by the workmate of the dead man, Richard Henry LEES, a jobber of Daulby St, Liverpool, that they were crossing the road by the pedestrian crossing in order to catch a tram, and the jury found that JONES was on the crossing when he was struck.

LEE said he saw the car about 40 yards away and thought they had plenty of time to cross the road. They were half way over when the car seemed to come on top of them in a split second. It was raining slightly at the time.

Mrs Elizabeth WATERWORTH of Higher Rd, Hunts Cross, whose son was driving their car said she felt a bump after they had passed the crossing. She did not see anything.

Thomas James WATERWORTH, Chemists assistant, said he was driving about 25 to 30 mph. After he had got over the crossing about a car length he felt a bump. He did not see anything before the bump, and did not agree he carried the deceased man any distance on his headlamps.

Medical evidence was that JONES died from cerebral haemorrhage following a wound to the head.

John KILGALLON

Liverpool Daily Post, March 6th, 1939

Garston Gasworks fatal fall

John KILGALLON, aged 49, of 20 Garfourth Rd, Garston was fatally injured whilst working at Garston Gas works last night. He had climbed up to the top of one of the retorts to clean out one of the pipes when he overbalanced and fell to the floor a distance of 25 feet. He sustained a fractured skull and other head injuries and died in Garston Hospital shortly after admission.

Evening Express March 7th, 1939

Garston employees 23ft fall to death

A Garston employees fatal fall of 23 feet from the top of a retort platform to the floor of Garston Gas Works on Sunday afternoon was investigated by the Coroner and jury at a Liverpool inquest today. The dead man, John KILGALLON, aged 47, of 20 Garfourth Rd, Garston was employed by Liverpool Gas Company as a labourer.

Thomas William WILLIAMS, of Ponsonby St, Toxteth a machine driver, said he heard a thud and found KILGALLON lying on his back on the retort house floor. He was unconscious and died soon afterwards. He did not see KILGALLON climb up to the platform above the retorts, but KILGALLON had told him he intended going up

KILGALLON for the job had to poke a 14ft claw down the retort. He would have to stand on a 15 inch platform and handle the claw, which weighed about 44 lbs. There was no handrail on the platform but KILGALLON would be able to support himself against a bunker.

William NORRIS, gas works superintendent of Ballantrae Rd, Mossley Hill said KILGALLON would have to climb up to the platform to use the claw, and possibly had fallen when in a kneeling position. KILGALLON was an experienced employee.

Medical evidence showed death was due to a fractured skull and laceration of the brain. The jury returned a verdict of, Accidental Death, and expressed the view that KILGALLON fell from the platform while engaged in his duties, due to the platform not being fenced.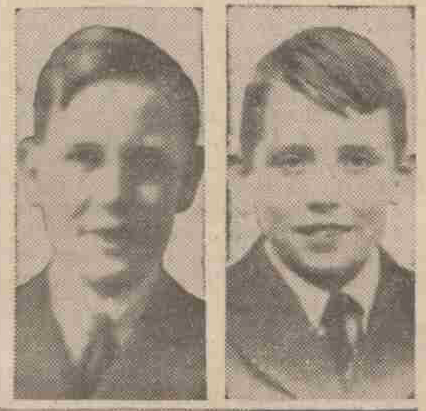 James Large Ernest FIFE
James Meadowcroft LARGE
Evening Express April 20th, 1939
Tragic canoe washed ashore
Vain all night search for second boy
Boat bought for a few shillings
An empty canvas canoe was found today on Meols foreshore and there is now little hope of finding the second of the two boys who set out yesterday from Leasowe embankment alive.
One of the boys Ernest FIFE, aged 16, Bank Cottage, Leasowe was found dead on the shore at Leasowe by two young girls yesterday evening
His companion in the canoe was James LARGE, Reedville Grove, Leasowe.
A constant all night watch on the waterfront was kept by the police and coastguard, in vain. The canoe went ashore near Meols Promenade, Hoylake, about midnight and was taken charge of by Hoylake police, it was undamaged. The paddles were missing but there was a pole lying in the bottom of the boat. It is surmised the canoe had floated up the gutter, which runs from Crawfords Sewer, Leasowe into the Hoyle lake.
FIFE was an errand boy employed by a Moreton chemist, his mother Mrs May FIFE, whose husband died only recently, has told Wallasey police that her son had been friendly with LARGE for some time, and about three weeks ago she heard the boys talking about buying a boat. On Good Friday FIFE told his mother that he had his eye on a boat, but did not say what type it was. Mrs FIFE did not want them to have a boat and told them so.
On Wednesday of last week they arrived at her house with a boat and said they had bought it from a man named SMITH and that they only intend to use it in shallow water. She was vexed with them, but allowed them to keep the boat. Both of them spent some evenings patching up the boat.
Happy boys
About 1.45 yesterday afternoon LARGE called for FIFE, they seemed happy and said what a wonderful time they were going to have. They placed the canoe on a truck and left the house, but did not say where they were going. Mr FIFE told them to be careful, they said they would be alright as they were only going in shallow water.
FIFE was only able to swim a few strokes.
Lilian PALFREY, aged 17, of Westway, Moreton, was gathering cockles on the shore with a friend, Lilian EVANS also of Moreton. They were nearly opposite Leasowe lighthouse, when they saw two boys pushing a small boat into the sea. The water was right up to the embankment and there was some kind of sail in the middle of the canoe. Witness noticed when the canoe was a good distance from shore it was low down in the water and seemed to be disappearing. Soon one of the boys disappeared from view, while the other was obviously in distress, and seemed to be clinging on to the mast. There was a yacht passing at the time and she thought it had picked them up.
Shortly after 5pm on their way home they found the body of FIFE.
James LARGE was an only son and went to school in Liverpool. He was a non swimmer and his mother and father did not know when he went out yesterday that he was going into the sea with a canoe. He had promised that he was only going to a nearby pond, which was too shallow to have been dangerous.
Liverpool Daily Post, Apr 21st, 1939
Leasowe Canoe Tragedy
Inquest story of passing yacht
Coroner appeals for witnesses
In view of an allegation yesterday on the 16 year old Leasowe boy, Ernest FIFE one of two victims of a canoe mishap, that a yacht passed near to the canoe and went off the Wallasey coroner Mr R. T. HIGHET, adjourned the inquiry for a week and asked for an appeal to be made for the occupants of the yacht to come forward.
Mrs May FIFE a widow of Bankfield Cottage, Leasowe said that her boy Ernest and his friend James LARGE, bought a canoe on Good Friday and brought it home on Wednesday of last week. She told them she did not approve, but they replied that she need not worry as they were going to use it in shallow water only. Having spent their evenings in patching up the boat, on Wednesday afternoon they placed it on a truck and went off with it. A few hours later she was told that the body of her boy had been found on the shore.
Seen by two girls
Lilian PALFREY, aged 17, of Westway, Moreton, said she and her friend Lilian EVANS were gathering cockles on the shore when they saw two boys pushing a boat into the sea. They had two oars and a small sail. Soon afterwards she saw the boat tipping and heard the boys shouting for help. One of them was hanging out of the boat and the other was holding on to the sail and then let go. Witness saw a yacht going past at that time. On her way home later she came across the body of FIFE on the shore. This evidence was corroborated by Lilian EVANS, who added that the yacht seemed to draw level with the canoe and then turn away in another direction.
The canoe was half under the water and the yacht seemed to go right up to it and them go off again. There was a man on the embankment who appeared to be signalling in Morse code to the men in the yacht.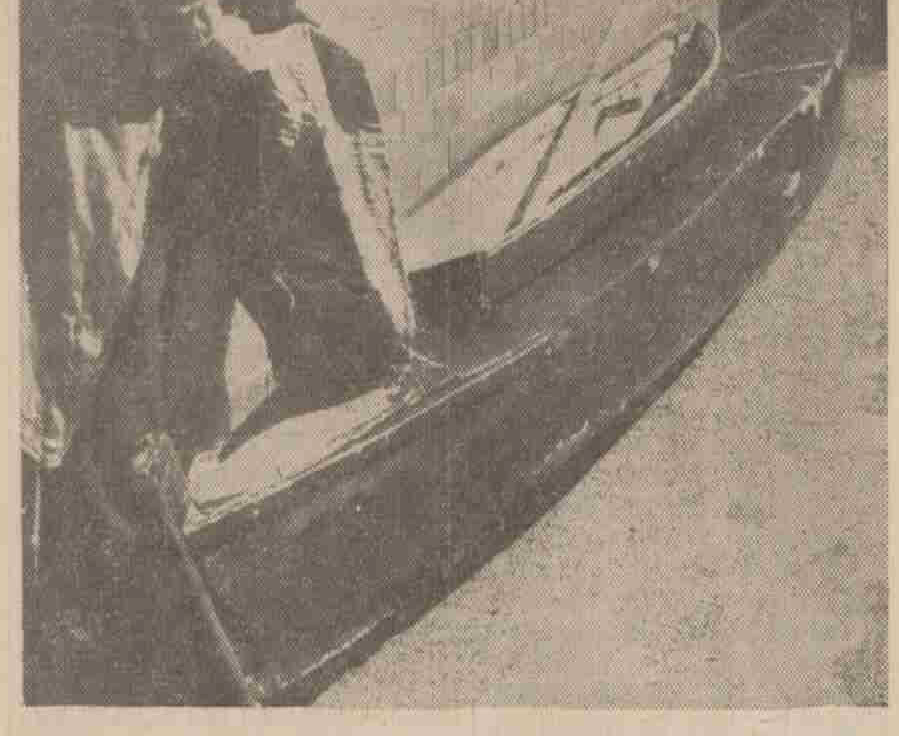 Canoe not seaworthy
George SMITH, Lingham Cottage, Leasowe, said the boys bought the boat from him. It had been stored with witness since Christmas by a Wallasey man, who told him to do what he liked with it. It was not seaworthy and needed repairing. The boys gave witness 2s, for it and he told them they could give him another couple of shillings later on. They said they would tar it and sail it on the pools on the Common. Constable DUNN said the boat was washed up on the shore at Meols early that morning and added it was not fit to take out on the sea.
The coroner in view of the evidence of the two girls he would adjourn the inquest for a week and he would ask the press to invite the yachtsmen and the man seen on the embankment to communicate with the police and come forward and give evidence.
The body of the boy LARGE has not yet been recovered.
Evening Express April 28th, 1939
Canoe Tragedy inquest
Regret that although two girl witnesses were, very young, they did not obtain assistance, was expressed by the Wallasey Coroner Mr R. T. HIGHET, at the adjourned inquest last night on Ernest FIFE, aged 16 of Bellfield Cottage, Leasowe, who drowned whilst out in a canvas canoe, which he and a companion had bought for a few shillings.
The Coroner added that some effort should have been made to help the two boys. The only thing was that the two girls did not appear to realise what was happening.
When the inquest was open last week the two girls told the coroner that they had seen a yacht which seemed to go to the assistance of the boys in the canoe, then sailed away again.
The inquest was adjourned, the coroner appealed for the crew of the yacht to come forwards, but he was informed last night that the police had no further information to offer. A verdict that death was due to drowning, there being no sufficient evidence to show how the boy got into the water, was returned. His companion James LARGE, aged 15, of Reedville Grove Leasowe was also drowned, his body has not yet been recovered.
Evening Express May 13th, 1939
Drowned while canoeing
A verdict that death was due to drowning and that there was no sufficient evidence to show how he came to be in the water, was returned by the Wallasey Coroner Mr T. HIGHET, at the inquest last evening on James Meadowcroft LARGE, aged 15 of Reedville Grove, Leasowe, who with his companion Ernest FIFE was drowned from a canvas canoe off Leasowe Embankment on April 19th. His body was found on Wednesday night one the foreshore of Leasowe, about a mile from the site where it was stated the two boys were seen to push the canoe in the water. The body of FIFE was discovered soon after the mishap.
Francis BRIGHT
Evening Express June 8th, 1939
Liverpool Motor cyclist killed
Mr Francis BRIGHT, of the Fairfield Arms Hotel, Liverpool died in Ormskirk General Hospital following a collision on his motor cycle.
He was riding along Southport Rd, Sarisbrick, towards Southport and after passing over the Red Lion Bridge it is thought his cycle hit the kerb, causing it to mount the footpath and strike an iron rail fencing. He was admitted to hospital with a fractured skull.
The pillion rider Morris CARPENTER of the Bridge Hotel, Picton Rd, Wavertree, received a fractured arm. The inquest will be held tomorrow.
Evening Express Sept 12th, 1939
At the adjourned inquest on Francis Bright, the Assistant Deputy Coroner, Mr Cornelius BOLTON, stated he had inquests each day, there were three the day of the inquest on people killed on the roads during the black out, he urged pedestrians, motorists and cyclists to take more care during the black out and if possible they should not use the roads at all.
Morris CARPENTER licensee of the Bridge Hotel, Picton Rd, Wavertree, pillion passenger said they left Liverpool at 3.35 to go to Southport. They went by way of Knowsley, several times before the accident he spoke to Bright telling him he was travelling too fast, and was taking corners and crossroads at a reckless speed. When approaching the Red Lion Bridge BRIGHT overtook two vehicles on the wrong side, when reaching the top of the bridge a vehicle was coming in the opposite direction. Bright drove to his near side in doing so the footrest hit the kerb, and both of them were thrown from the vehicle.
BRIGHT died in Ormskirk Hospital without regaining consciousness.
In reply to the Coroner witness said that owing to the manner in which BRIGHT drove he was going to insist that he should be allowed to take control of the machine. A verdict of Death by Misadventure was returned.
James Rogers BANKS
Evening Express Nov 1st, 1939
Liverpool man dies in crash
Following a collision with his motor cycle and a lorry in Buxton, James Rogers BANKS, aged 19, of Eastfield Dr, Liverpool, was killed instantly last night.
BANKS a leading Aircraftman in the Auxiliary Air Force, was believed to be returning home on leave. The accident occurred at a roundabout in Ashwood Dale, a celebrated Derbyshire beauty spot.
An inquest will be held tomorrow.
Liverpool Daily Post, Nov 3rd, 1939
Inquest on a Liverpool Aircraftman
Accidental Death, was the verdict at a Buxton inquest yesterday on Aircraftman James Rogers BANKS, aged 19, of Eastfield Dr, Liverpool, who was killed when his motor cycle was in collision with a motor lorry at Buxton on Tuesday..
The driver of the lorry told the coroner that a woman who had seen the accident but who had not appeared at the inquest, had told him that the collision was not his fault.
Sympathy with the parents of BANKS was expressed on behalf of the commanding officer of his squadron by Flying Officer HEATH, BANKS he said, was one of the best men in the squadron.
Henry Palfry PRICE
Evening Express Dec 18th 1939
Cyclist dies after collision
A 63 year old Liverpool Man, Henry Palfry PRICE, of Wendover Ave died at Smithdown Rd, Hospital on Saturday following a collision between his bicycle and a pedestrian in Aigburth Rd on the previous night.
Liverpool Daily Post Dec 28th, 1939
Found in roadway
Mystery of death unsolved
Nobody responded to the appeal by Liverpool City Coroner Mr G. C. MORT for witnesses of an accident in Aigburth to throw light on the death of a man, and the mystery of his death remained unsolved at the resumed inquest yesterday.
Henry Palfry PRICE, aged 61, a gardener of 5 Wendover Ave, Toxteth Park, who died in Smithdown Rd Hospital on December 16th, and a verdict was returned that, Death was the result of a fractured skull, but the evidence is insufficient to show how he came by his injuries.
David WOODS, general labourer of Earle Rd, Edge Hill, Liverpool said he ran into an object when cycling along Aigburth Rd at 5.10pm on December 15th. He then discovered PRICE who was lying in the road, on his back, he was bleeding from a wound at the back of his head, near the kerb, and from the fact that there was no shout or noise, and no sign of a man standing or walking upright in front of his cycle light, witness believed that the man had already fallen from some other cause, and the cycle struck him while on the ground.
John HUNTER
Liverpool Daily Post, Dec 23rd, 1939
Appeal to motorist
Fatal accident in Brodie Avenue
The City Coroner Mr G. C. MORT, yesterday adjourned the inquest on the victim John HUNTER, senior aged 64, shipwright, 8 Erylmore Rd, Mossley Hill who was fatally injured in a motor accident in Brodie Avenue about 6.30pm on Wednesday last.
In doing so he appealed for a motorist to come forward and give evidence. One motorist said, he had made a statement that he felt a bump and at once applied his brakes. He alighted and saw HUNTER lying in the road. He then noticed another car approaching,, he ran and tried to stop it but was unable to do so. He believed this second car ran over the man lying in the road. The driver of this later car stopped and came back but his identity was not known.
The man the police would like to speak to, was driving a small dark saloon car, possibly a Morris eight, he was 5ft 7ins of 5ft 8ins in height, wearing glasses a dark suit and trilby hat.
Liverpool Daily Post, Dec 30th, 1939
Story of second motorist
Liverpool road tragedy puzzle
The mystery of a Liverpool black out tragedy was not cleared up at the inquest yesterday although several witnesses came forward as a result of the appeal from the coroner.
The jury in returning a verdict of, Accidental Death, on John HUNTER, aged 64, shipwright, 8 Erylmore Rd, Mossley Hill who received fatal injuries in a road accident added that there was not sufficient evidence to show whether the lights on the car which knocked him down were on or not at the time of the accident.
Some days ago William Robert KELLY, had stated that immediately after the accident a second car driven by a man, passed and may have touched HUNTER as he lay in the road, the driver of this car did not come forward as a witness.
Mrs Muriel BINNINGTON of 147 Greenhill Rd, Allerton, who was thanked for responding to the appeal for witnesses, said that when driving her car in the west carriageway towards the city a man shouted, Stop! Stop! For Gods sake. I have run a man down in the road. She pulled up about 3 yards from the body. She saw a stationary car without lights and called to the man who she said was KELLY, had he you not better put his lights on. As she was leaving to fetch a doctor she saw the lights go on. Sergeant R. LITTLEDALE said that KELLY made a statement after the accident saying that only his sidelights were lighted. When passing Brynmor Rd he felt a bump on the near side of the car and the windscreen was shattered. He swerved and pulled up, on running back he saw a man lying in the roadway. He noticed another car approaching, he tried to stop it but was unable to do so, he thought it ran over the man in the roadway. The driver of this car stopped and came back. KELLY did not know who he was or the number of his car, which was a dark saloon.
KELLY mentioned that after the dark saloon car had gone the car driven by a woman came up and stopped. She did not get out of the car.
KELLY in evidence said he was a Post Office engineer living at 182, South Mossley Hill Rd, at the time of the accident he was travelling about 20 mph. He has not the faintest remembrance about being spoken to by Mrs BINNINGTON about his lights. The lights were on when he left home, he switched them off when in the run up to a house in Brodie Ave after the accident, but in the meanwhile he had not interfered with them.
Addressing the jury the coroner said it seemed inconceivable that Mrs BINNINGTON had made a mistake about the lights.
Mrs Alice HUGHES
Evening Express March 25th 1940
Knocked down by car
While crossing Aigburth Rd on Saturday Mrs Alice HUGHES, aged 62, wife of a tram driver, of Fulwood Rd, Aigburth was knocked down by a motor car. She was removed to Garston Hospital suffering from a fractured skull. Her condition today was reported as , still very critical.
Evening Express March 30th 1940
The death occurred in Garston Hospital last night of Mrs Alice HUGHES, aged 62, wife of a tram driver, of Fulwood Rd, Aigburth was knocked down by a motor car whilst crossing Aigburth Rd last Saturday.
Evening Express April 1st, 1940
Basket caught in car handle
Theory in Liverpool road tragedy
The theory was put forward by a witness at the inquest at Liverpool today on Alice HUGHES, aged 56, that the catching of a shopping basket on the handle of a passing motor car caused her to be thrown against the rear side of the car, receiving injuries from which she died in Garston Hospital..
Mrs HUGHES who resided at Fulwood Rd, Aigburth was the wife of Stephen HUGHES A Liverpool Corporation tramcar driver.
Leslie McPHAIL, an aircraft engineer of Elm Rd, Seaforth, said he was a passenger in the car driven by Laurence Arthur WILSON on Saturday March 23rd. They were travelling towards Liverpool an d had almost reached the junction of Mersey Rd and Aigburth Rd, when he saw Mrs HUGHES come from in front of a couple of stationary motor cars and move across the road towards a tramcar which was arriving.
WILSON said witness swerved into the middle of the road and the front part of the car missed the woman, but she was hit by the rear side and knocked down. It seemed that the basket she was carrying caught the handle of the door of the car and knocked her against the back of the car, stated WILSON. Laurence Arthur WILSON, aircraft engineer of Holden Rd, Waterloo, the driver of the car, said that when he saw Mrs HUGHES he put on his brake and swerved, but the rear of the car struck her. Medical evidence showed that Mrs HUGHES had a fractured base of skull.
The Coroner Mr G. C. MORT, recorded a verdict of Accidental death.
James CHAMBERLAIN
Evening Express April 1st, 1940
Wallasey fire tragedy
A 60 year old Seacombe widow Mrs Elizabeth CHAMBERLAIN of Vernon Ave, Wallasey, lost her life in an early Sunday morning fire which gutted her house.
It was shortly after 4.30am yesterday morning when Wallasey Fire Brigade were called to the scene, on arrival they discovered the house was in flames.
Also in the house in addition to Mrs CHAMBERLAIN, were her 24 year old son James CHAMBERLAIN, and a daughter, Mrs Lilian May SALISBURY. They were awakened by the smoke and when they went on the landing flames were shooting up the staircase. Attempts were made to get Mrs CHAMBERLAIN to safety, but eventually Mr CHAMBERLAIN jumped through a landing window ten feet to the ground in an effort to arouse neighbours and get assistance.
Members of the Fire Brigade afterwards found Mrs CHAMBERLAIN lying dead at the top of the stairs. The interior of the house, including the furniture was completely gutted, although the brigade managed to prevent the fire spreading to surrounding property.
Mr James CHAMBERLAIN and Mrs SALISBURY were both taken to the Victoria Central Hospital suffering from respectively from shock and bruises and badly burned arms. Both were stated Fairly comfortable today.
The Wallasey Coroner will open the inquest today for the purpose of identification.
Evening Express April 2nd, 1940
Seacombe Fire Tragedy
The inquest on Mrs Elizabeth CHAMBERLAIN has been adjourned by the Wallasey Coroner until April 10th. Mr James CHAMBERLAIN who was injured in jumping out of a landing window to get help is in the Victoria Central Hospital , Mrs Lilian SALISBURY, a daughter of Mrs CHAMBERLAIN, who was also taken to hospital suffering from burns is expected to leave hospital today.
Hector GRAHAM
Evening Express Oct 22nd, 1940
AFS Officer dies on duty
Liverpool Auxiliary Fire Services have lost one of their best known members by the death on duty of Mr Hector NcD GRAHAM, analytical chemist of Mather Ave, Allerton. He had been in the service of Mr G. Watson GRAY, analyst, of Inner Temple, Dale St, Liverpool for 27 years.
He was a patrol officer in the A.F.S, and both by his enthusiasm and his technical knowledge, he exerted a splendid influence.
The Conservative Party in the City found him a keen supporter. He was chairman of the Entertainment Committee of Garston Workingmens Conservative Association and a member of Allerton, Conservative Association , and a member of the Divisional Council of Wavertree Conservative Association.
A funeral service will be held at All Souls Allerton tomorrow afternoon, followed by interment at Allerton Cemetery.
Allerton Cemetery Interments
MAIN PAGE
© 2016 All Rights Reserved