Liverpool Mercury, Saturday, 22nd Aug 1908

PIT DISASTER

WIGAN MINE DISASTER

AWFUL EXPLOSION

72, LIVES LOST

Harrowing scenes. Heroic attempts at rescue

Took place on Tuesday evening at a few minutes after 5.00pm, at No 1, Cannell Mine, of the MAYPOLE PIT, belonging to PEARSON and KNOWLES Coal and Iron Co. Ltd, on the outskirts of Wigan at Abram.

The explosion destroyed the ventilation drift and blew the cage, rope and other accessories away.

It was officially stated that 75 men were down the pit at the time of the explosion, three were rescued alive, William DORAN, SMITH and DRAPER, thus there were 72 men in the mine immediately after the catastrophe.

Men, Women and children in a seething mass waited in sorrow at the pit mouth for those, who but, an hour before had left their homes.

Rescue parties were organised without delay equipped with rescue apparatus from the new rescue station at Atherton.

When the rescue parties entered the mine they found it filled with gaseous fumes. Those who witnessed the awful debacle, stricken with terror at the spectacle, and their first impulse was to rush wildly in all directions, it was as if the end of the world had come.

Many of the rescuers became exhausted and were brought to the mouth of the pit and revived, then in relays of 20, again and again pursued their way to the awful scene.

Bodies of dead pit ponies were seen, mounds of earth formed in piles as if the earth had yawned and broken and destroyed all around it. Miner after Miner was found lying dead, some unrecognisable , some as if they were asleep. The search was continued till 3.30 am on Wednesday.

The scene at the pit head was one of the most heart rendering character, sisters looking for brothers, mothers waiting for sons and wives weeping for their husbands. Managers, Doctors, Nurses, all missionaries of succour, were seeking to be the foremost ranks, where peril overshadowed them, along with Priests and Ministers of every denomination.

At 10.30 am on Wednesday, fire broke out in the South district pit, the fumes added to the danger of the rescue and dove the men back, again and again. Five men had a narrow escape when they were putting up brattice cloths with a view to giving the ventilation a necessary turn, a gust of choke damp came up on them from behind, they were cut off from their comrades. The men behind boldly dashed through the blinding fumes and dragged the five men back, in a state of semi-unconsciousness.

During the course of the day on Wednesday, 20/30, bodies were rescued from the wreckage.

The Manager of the company, Mr John KNOWLES, was unable to advance a cause of the disaster, or to say how it occurred.

DORAN, one of the survivors, stated, he was knocked down by the explosion and fell face down with the other two rescued men. He tried to travel forwards towards the pit eye, but all lights, except one were out. They decided, afraid to go on, to wait events in a manhole. After sometime they were reached by the relief party and given all help possible. The relief party conducted them from underground by another shaft. DORAN, states, the roof falls along the roads they travelled were very heavy, he shouted to four men, who had been working near him, at the other side of the fall, there was no answer, and he surmised they had perished.

Mr John KNOWLES, the General Manager, stated the exploring party included himself, Mr HALL, Mining Inspector and Mr MATHEWS, Assistant Inspector, they would do their best to bring up the dead during the night. The rescue work came to a sudden end early on Thursday morning. Fire broke out again and the rescuers had a narrow escape of losing their lives.

Three men were brought up gassed, presenting a ghostly sight with their pallid faces, and reeling like drunken men. Their was a cry for volunteers, the words no sooner uttered than men were stripped to the waist, even before the cage was there to receive them. Organised for another attempt to explore the workings, when smoke suddenly rushed along the roads and they had to precipitately make their way to the surface.

One man was isolated in charge of a pump, two brave volunteers, James FOX and Thomas MORRIS, went and warned him of the danger, both were brought out overcome by the fumes.

Mr Harry TWIST, [Miners agent] and a party of six, explored from 11.30 to 3. They took the Spion Kop district and found two men situated at a depth of 200 ft, so that the pumpers could not get out. James MORRIS Fireman and FOX a pumper offered their services, going down with handkerchiefs over their mouths to protect them from the fumes.

It is intended to recommend these two brave men for the, King,s medal.

A man named W. MOORE of Walthew Lane, Platt Bridge was included in the list of those underground, but had lost his tally, rendering it necessary for him to come up half an hour before the explosion. He did not report himself until his name was published as one of the entombed men.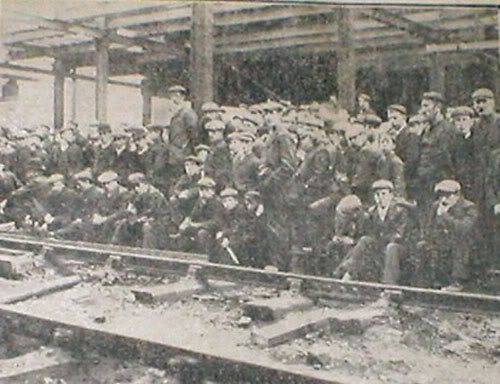 Work mates wait for news
Official list of the victims.
Patrick SLOYAN, 9 Teck St, Wigan, Scholes
T. KILLORAN, 142 Lily St, Platt Bridge
J. BURNS, Liverpool Rd, Platt Bridge
J. M. GRATH, Well St, Wigan
J. CREHEN, 5 Platt St, Plank Lane
J. DOYLE, Greenough St, Wigan
M. BOYLE, Marsh Lane Scholes
P. C. FISHWICK, 50 Warrington Rd, Abram.
S. EVENS, Golborne
P. PENNINGTON, No address
R. WILDINGE, No address
H. PIMBLETT, Warrington Rd, Dover, Abram
J. WALKDEN, 60 Warrington Rd, Hindley
J. DAVIES, 264 Warrington Rd, Abram
T. LLOYD, 43 Neville St, Platt Bridge
H. TAYLOR, 376 Warrington Rd, Abram
Patrick CARROLL, 9 Teck St, Wigan
J. MORGAN, 30 Cambridge St, Wigan
A. HENDERSON, 34 Chinch St, Golborne
M. HOUSE, 53 Patrick St, Scholes
R. PIMBLETT, Warrington Rd, Abram
A. HUGHES, 22 Cobden Terrace, Golborne
O. ROBINSON, 240 Warrington Rd, Abram
P. CAULFIELD, 144 Lily Lane, Platt Bridge
L. RUSHTON, 348 Warrington Rd, Abram
J. DANSON, Hindley
J. CASSIDY, May St, Golbourne
A. DEVANEY, Moss Lane, Platt Bridge
J. WALSH, Dootson St, Platt Bridge
T. M. DONALD, 8 Knowles St, Lower Ince
M. MC GRAEL, 54 Talbot Lane, Platt Bridge
B. FORD, Stanley Rd, Platt Bridge
T. KEARNS, 25 Stanley Rd, Platt Bridge
J. KIRBY, High St, Golborne
T. MC ELLEN, 7 Quinn St, Golborne.
T. GASKELL, Park Lane Abram
B. SMITH, Wall View Lane, Platt Bridge
J. HOLCROFT, Leigh
B. NELSON,
George HOLCROFT, Leigh
M. GALLAGHER, 28 Wall St, Scholes
Thomas GROARK, 8 Upper Morris St, Scholes
M. CAFFERTY, 8 Upper Morris St, Scholes
E. CAFFERTY, 8 Upper Morris St, Scholes
T. DONLON, Golbourne
J. ROBINSON, 20 School St, Golborne
E. MC DONOUGH, No address
M. MOLLOY, Vauxhall Rd, Scholes
P. MULLIGAN, 59 Anderson St, Scholes
J. BENNETT, Bell Vue St, Scholes
P. MC GOWAN, 15 Higham St, Wigan
P. CULLEN, 11 Holland St, Wigan
H. KILLORAN, Warrington Rd, Abram
J. FLANNERY, Aspinall St, Leigh
MC CUCKEN, 18 Rupert St, Wigan
W. MC CABE, No address
J. GEORGHEGAN, 18 Rupert St, Wigan
J. CONWAY, Warrington Rd, Wigan
George ALLEN, 169 Walthew Lane, Platt Bridge
E. BANKS, 19 Powell St, Wigan
J. FRANCE, Dover Locks, Abram
Albert DRAPER, 117 Neville St, Platt Bridge
T. HARRISON, 515 Warrington Rd, Abram
A. MONKS, Warrington Rd, Abram
G. MELLING, No address
P. CHARNOCK, 212 Warrington Rd, Abram
P. DUFFY, 8 Upper Morris St, Wigan
J. TAYLOR, Abram
J. DONNELLEY, 22 Turton St, Golborne
T. MURPHY, 104 Walthew Lane, Platt Bridge.
Copyright 2002 / To date